Doctor's Office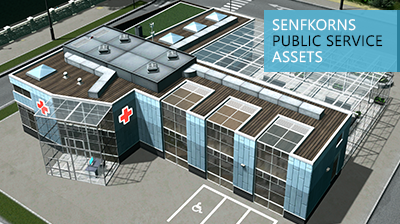 Author:
Senfkorn
Last revision:
25 Jul at 22:51 2017 UTC
Description:
Hi community,
I wanted to create some assets with interior, because using the advantage of transparency is such a cool thing. It's a way to give Cities Skylines assets a bit more depth. I know it increases the tris count and it needs additional texture maps, but I think I found a reasonable compromise.
Have fun!
If you like my assets, I'd appreciate a little donation (paypal), also in view of all upcoming stuff. Thank you very much.
[www.paypal.com]
Asset in-game info
Type of building: Healthcare, Medical Clinic
Asset properties
Size: 4×4
All other properties are exactly the same as the vanilla clinic
Asset info
Tris main building: 1812
Texture size: 1024×512
Tris sub-building: 212
Texture size: 512×512
Texture types: diffuse, alpha, specular, illumination & normal map
LOD info
Tris: 56
Texture size: 256×256
Texture types: diffuse, alpha, specular & illumination map
Notes
Screenshots were taken by using Realistic LUT V1.2 combined with Daylight Classic mod. But all assets I made were adjusted for the vanilla game colour settings.