Traditional Storefront [1×4 RICO]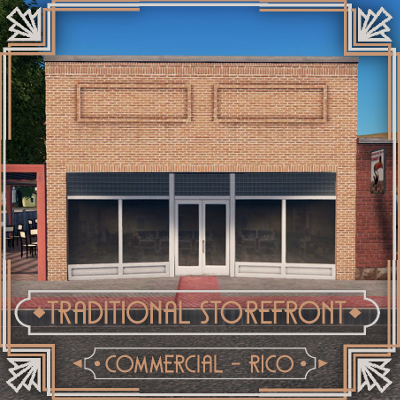 Author:
Exurbanite
Last revision:
9 Aug at 03:05 UTC
Description:
Traditional Storefront by Exurbanite
Overview
An early 20th-century storefront in the "Main Street" vernacular style common throughout the U.S. Has no signage for in-game customization.
I intended this asset to serve as an experimental debut for glass block features since I want to implement them in many future projects. I'm also getting a better handle on this whole detailed nightlight business — enjoy.
Loosely inspired from buildings in Flagstaff and Wilcox, AZ.
Asset Info
RICO
1×4 Regular Plot
L1 Commercial: 8 Jobs
4 Color Variations: Blue, Brown, Green, & White
Wall-to-Wall/Streetfront
Detailed Nightlights
Custom LOD
Model Info
Main Model
Tris: 644
512×1024 diffuse
Includes c, d, i, n, & s maps
LOD
Tris: 30
128×128 diffuse
Includes c, d, & i maps
Recommended Detailing Props
Not required, but useful for storefront detailing
My Simtropolis Thread:
If you have any feedback, suggestions, or are interested in collaborating with me on content creation let me know here.
http://community.simtropolis.com/forums/topic/72457-exurbs-main-street-americana-collection-traditional-storefront-released/?page=3