Carl's Jr. / Green Burrito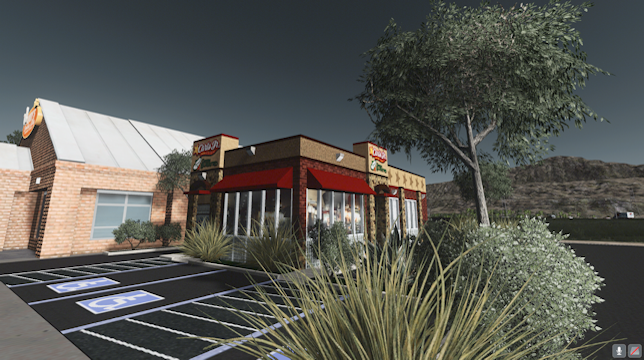 Description:
Carl's Jr. & Green Burrito. Co-branding[edit]
In several Western U.S. locations, Carl's Jr. parent CKE has begun operating co-branded restaurants with its Green Burrito group. This same strategy has also been used by Yum! Brands with its KFC, Pizza Hut, Taco Bell, A&W Restaurants, and Long John Silver's concepts to expand brands without the additional expense of new buildings and land.[11]
Carl's Jr. is a fast food restaurant chain operated by CKE Restaurant Holdings, Inc., with locations primarily in the Western and Southwestern United States.
Carl Karcher (1917–2008) and his wife Margaret (1915-2006) founded the predecessor of Carl's Jr. in 1941, starting as a hot-dog cart in Los Angeles. In 1945, the Karchers moved the short distance to Anaheim, California, and opened their first full-service restaurant, Carl's Drive-In Barbeque. As the restaurant became successful, Carl expanded his business by opening the first two Carl's Jr. restaurants in Anaheim and nearby Brea in 1956. They were so named because they were smaller versions of Carl's original drive-in restaurant. That same year, the chain was officially renamed Carl's Jr. and the fast-food chain took off.[1]
In 2016, Entrepreneur listed Carl's Jr. as #54 on their Top Franchise 500 list, which ranks the overall financial strength, stability, and growth rate for the top 500 franchisees in any field across the United States.[2]
As of March 2016, CKE (the parent company of Carl's Jr. and Hardee's) has a total of 3,664 franchised or company-operated restaurants in 44 states and 38 foreign countries and U.S. territories.[3]
LVL 1 low density commercial growable. 3×3 lot, with drive through and parking spaces.
If you guys enjoy my assets i've spent time crafting, it would be greatly appreciated if you considered giving back in the form of a donation, ratings. thanks. If a drink or something was covered, it would be nice.
http://paypal.me/electricafterlife
Here's my collection of props that my assets may include… a few props may be missing from the list, but this will include my favorite.
http://steamcommunity.com/sharedfiles/filedetails/?id=1093685733