Service Vehicle Garage Pack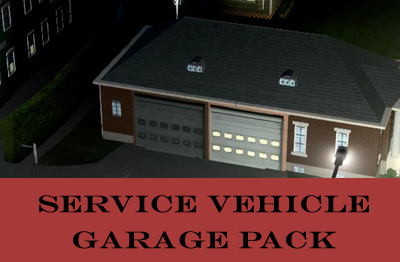 Author:
vasimr22
Last revision:
16 Jul at 04:23 2017 UTC
Description:
Basic Info
This is a pack of service vehicle garage doors (in game as a building), which are intended to be clipped into a larger building. My main intention for these assets, are to provide isolate islands with services required for the game to function properly. Many small islands will not have a dedicated fire, police, and clinic building, but instead would have some sort of manipal garage which might house a single fire trick, a police car, and an ambulence (for first response, but not final treatement).
Unfortunately, the game does not allow for combined service buildings (as far as I am aware), so this is the next best solution, to be used where simply hiding an dedicated building inside of another building is not possible.
These function like normal police / fire stations / clinics, and are thus compatable with the service vehicle selector.
Contents
All of the assets share the same model (8 Tris with a 2 Tri LOD), and a 256×256 Diffuse, Specular, Normal, Illumination texture. None of the assets require workers. They are all 1×1 cell assets.
Police Garage – 4 cars
Fire Garage – 1 Truck
EMS Garage – 2 Ambulances
Garbage Garage – 2 Trucks (this is based off of the incinerator plant, so it does not accumulate garbage, but it does not produce electricity, or produce polution).
For clarification, these are 4 distinct assets, they are not combined into one. One will show up in the fire station category, one in the police station category, one in the garbage collection category, and one in the medical category. Each asset only serves one function, which is why they are only the garage door (so that multiple assets can be placed along side a larger building to appear as if the building is multi-function). If that is still confusing, this item on the workshop contains 4 files in it, subscribing will download all 4 of them.
How to place
1) Place a building down that you plan on clipping the garages into.
2) Place a road along the side of the building where you want the garages to be (it can be a concrete road if you want there to be a large driveway in front of them.
3) Place the assets the same way you would normally place a police / fire station.
4) Use MoveIt to partially clip the asset into the building, to make it look like it belongs.
There are two images attached to the pack which show an example of how this can be done. Those are clipped into the Sim City 4 Local Branch Library asset here: http://steamcommunity.com/sharedfiles/filedetails/?id=942075959