tomb Grabmal von Fürstenberg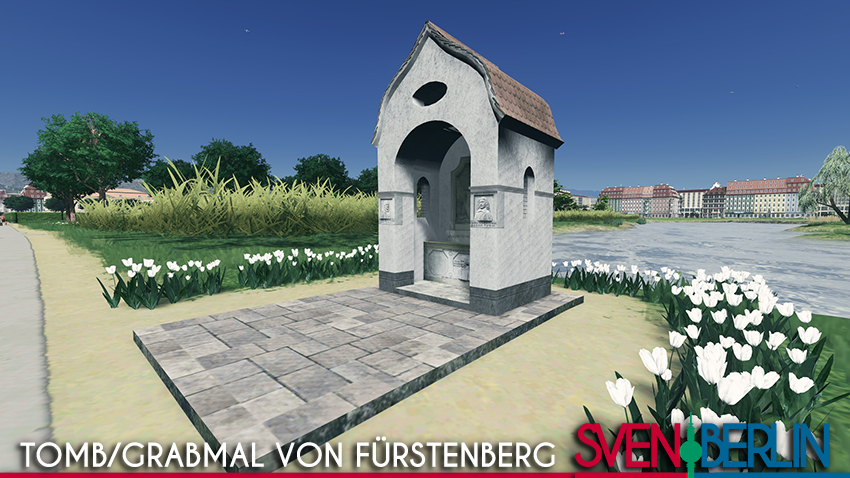 Description:
Tomb of the barons and earls of Fürstenberg at the Waldfriedhof in Paderborn (Germany). They were a family of counts in rhineland and westphalia. In the middle ages, they were an important part of the development of the city of Paderborn.
The asset fulfills the function "Deathcare". The size is 1×1. It can easily be integrated in narrow urban contexts. Authentic locations are church grounds or open urban areas. The number of patients is fixed with 100.
——————————————–
Grabmal der Freiherren und Grafen "von Fürstenberg" auf dem Waldfriedhof in Paderborn. Bei den Freiherren und Grafen handelt es sich um ein rheinisch-westfälisches Adelsgeschlecht. Das Adelsgeschlecht hat im Mittelalter die Entwicklung der Stadt Paderborn wirtschaftlich, religiös und architektonisch erheblich geprägt. Daher ist der Familie ein eigenes Grabmal gewidmet.
Ferdinand (Theodor) war u.a. Fürstbischof in Paderborn. Er erweiterte das Barockschloss Schloss Neuhaus sowie die Dreiecksburg Wewelsburg. Er gründete im 17. Jahrhundert die erste Universität Paderborns. Ferdinand II. baute – ebenfalls als Fürstbischof – die Stadtbefestigung Paderborns aus und errichtete mehrere Kirchenbauten.
Das Asset erfüllt die Funktion "Deathcare". In der Größe 1×1 lässt es sich insbesondere in engen städtebaulichen Kontexten leicht integrieren. Authentische Standorte sind Kirchplätze oder auch offene aber urbane Stadträume. Die Anzahl der Patienten ist mit 100 Patienten festgelegt.
triangles 827
LOD 78
without any decorations. Feel free to decorate by yourself.