British Seaside Factory Set 1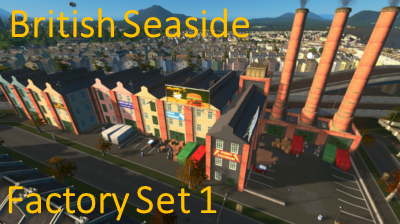 Author:
Sparky66
Last revision:
17 Sep at 12:12 2017 UTC
Description:
A set of 15 modular Victorian factory buildings, covering every generic industry level and plot size. Each level includes 1×1, 2×2, 3×3 and 4×4 factories plus a 4×4 boilerhouse with chimneys. Level 1 buildings are a single floor, level 2 are 2 floors and level 3 are 3 floors. Lots can expand their front or rear yards if there is space.
Designed to fit in with my British Seaside building set, but will fit with many other themes as well.
All buildings are constructed right up to the limits of their lot, so when multiple buildings from this set are built next to or behind each other it looks like one large factory, getting past the 4×4 plot limit.
Fully working lighting and colour variations, plus custom LODs. All 15 buildings in this set share the same texture set, so would benefit from the shared texture feature of the loading screen mod.
Uses my random factory signs and terrain conforming walls and fences, so make sure you subscribe to those as well. Some props are also randomised.
The smallest level 1 1×1 factory is 90 tris, with a 30 tris LOD, the largest 4×4 level 3 boilerhouse is 1774 tris with a 173 tris LOD. All the other buildings are somewhere inbetween.