Left-hand Traffic Bus Station 左側通行用バスステーション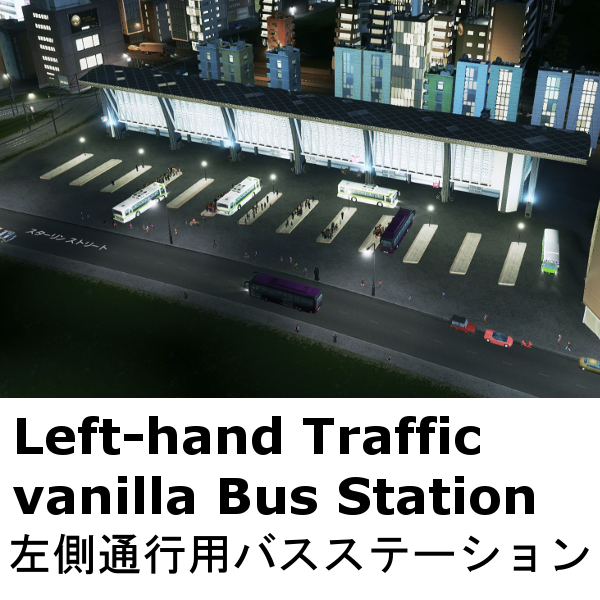 Author:
shimatarou
Last revision:
21 Aug at 11:58 2017 UTC
Description:
The vanilla bus station was remodeled for left-hand traffic in the asset editor. The direction of travel is reversed so that it becomes the same bus flow as for the right traffic.
When setting the route please set it by shifting to the left from the place you want to set. It is because it shifts to the right one line when the route is decided. Therefore, the leftmost place can not be set as a stop place, you can not set routes. Also, immediately after setting the route, passengers may get on and off the right side of the bus, but after a while they will get on and off from the left side. Immediately after setting the route, you may be able to move the stop position only in a specific place, but this will also be set after a while.
バニラのバスステーションをアセットエディタで左側通行用に改造したものです。進行方向を逆にし、右側通行用と同じバスの流れになるようになっています。
路線設定の時は設定したい場所から1つ左にずらして設定して下さい。路線決定時に1つ右側にずれるからです。よって、1番左の場所は停止場所にすることができず、路線設定できません。また、路線設定直後は乗客がバスの右側から乗降することがありますが、しばらくしたら左側から乗降するようになります。路線設定直後は停止位置の移動も特定の場所しかできないことがありますが、これもしばらくしたら設定できるようになります。