Redneck Family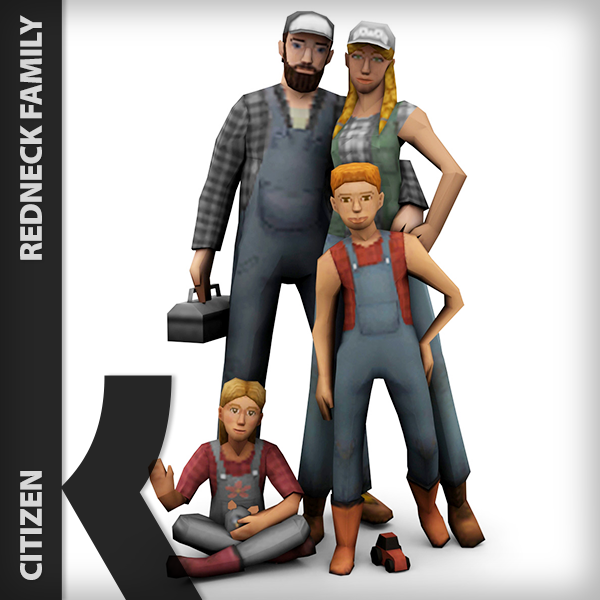 Author:
Kliekie
Last revision:
5 Oct at 20:49 2017 UTC
Description:
Redneck Family
Next one of the original family series! I can't take credit for these, I just made some small changes and made them game-ready (tweaked polycount, added smoothing groups, skeleton, color map and gave them some props when needed). All credit goes to Colossal Order and Paradox Interactive.
This asset pack contains 4 citizens:
– Adult male: Acts as a blue collar adult with female animations, prop: toolbox.
– Adult female: Acts as a young adult with male animations.
– Child male: Acts as a child, has boy child animations, prop: toy car.
– Child female: Acts as a child, has boy child animations, prop: Furby.
Stats
936 – 1126 tris
128* diffuse texture
128* color texture
None of them have a LOD, there seems to be a problem with the Z-axis and Y-axis difference between 3DSM and the game. The models will be updated when I have a solution for this.
There is 1 more family like this one and the hippie family, last one will also be uploaded eventually (unless the developers disagree).
Enjoy!
Tags:Citizen, Cim, Citizen, People, Human, Generic, hillbilly, american, Texas, Oklahoma, Colossal Order, Paradox
Like my work? Please consider supporting me.