Suspended Monorail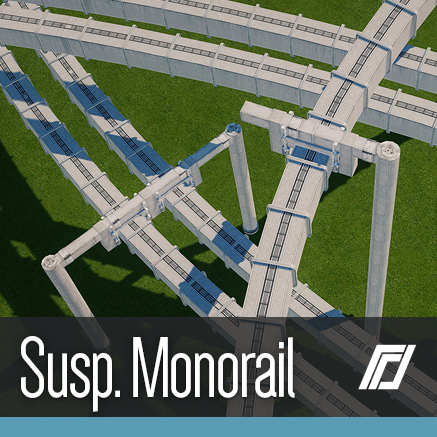 Author:
Ronyx69
Last revision:
9 Nov at 10:29 2017 UTC
Description:
Includes 2 double tracks, a oneway track, 4 station tracks for asset creators, 4 pillar props, 3 pillars and a lane prop.
Tracks found in monorail menu. Search "susp mono" in Find It! to find props and pillars.
Use anarchy and disable collision to plop tracks over buildings and roads.
DO NOT make tight intersections, sharp turns or put nodes close together, it will look stupid or the train won't be able to handle it at all. Make long sweeping turns, sparsely space out / avoid intersections. Don't try to turn right outside a station, which will bend the cross node.
Any complaints regarding these issues will be ignored.
The game may throw a duplicate prefab warning, this is because apparently the tracks contain the pillar prefabs, I am reusing the same pillar on multiple tracks and I also included the pillars themselves so you could place them yourself.
2 Nodes / 4 Segments
Main: 424 – 928 tris / 512×1024
LOD: 72 – 288 tris / 64×128
Lane / Pillar Props
Main: 36 – 168 tris / 128×256 or 256×256
LOD: 4 – 16 tris / 32×32
Station:
http://steamcommunity.com/sharedfiles/filedetails/?id=1195984363
Shonan 500 Series:
http://steamcommunity.com/sharedfiles/filedetails/?id=1196028003
Twitch[twitch.tv]
YouTube
Twitter
Simtropolis (Assets/Mods)[community.simtropolis.com]
Simtropolis (Tutorials/Scripts/Help)[community.simtropolis.com]
Donate[paypal.me]
Patreon[patreon.com]