ST Aeternum [deathcare]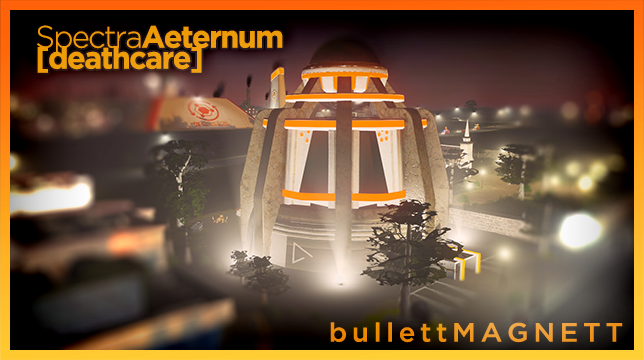 Description:
[bullettmagnett.tumblr.com]

[www.patreon.com]

[discord.gg]
ST Spectra Aeternum [deathcare] by bullettMAGNETT
Info:

2170 Tris
564 LOD Tris
1024×1024 maps
Size 5×7 tiles
Press Release:
""Spectra Technologies Inc.
Spectra Technologies proudly introduces a new technological advancement for the cities of today.
The brand new Spectra Aeternum brings everlasting rest to your loved ones, in a metastable allotrope of carbon. Not only the will last forever, but you'll be able to carry them with you or store them in their final resting place!"
Current Stats v 1.2
Cost: c 25000
Upkeep: c 720
Energy Production: n/a
Water Usage: 320
Energy Use: 1440
Other
Hearses 12
Decease Storage 8000
*Increased Range
*Increased death processing speed.
Important Side note:
-In version 1.2 Ive changed the building to act only as a crematorium, the game seems to bug out when you make it a hybrid, it will not function correctly as a graveyard and crematorium. So now it will process lots of dead very fast and empty those graveyards in no time.
Game limitations sorry T_T
-This building requires more energy than the vanilla crematorium, it also has an increased patient capacity ( storage for bodies) and processes patients 3 times as fast than vanilla. ( Idealy, this building acts as a Cemetery and Crematorium)
For balancing Ideas please leave a comment below, as these numbers might not be quite balanced yet.
Enjoy and Happy Gaming!
Feedback is always welcomed,
and Rate if you like it and enjoy it. 🙂
If something wrong let me know! So that i can fix it 🙂
Releases and other Stuff
https://twitter.com/bullettMAGNETT
bullettMAGNETT's Tumblr[bullettmagnett.tumblr.com]
Attribution-NonCommercial-NoDerivs
CC BY-NC-ND
"Copyright 2015-2017 [bullettMAGNETT]