Tatra T6B5 3 Car Train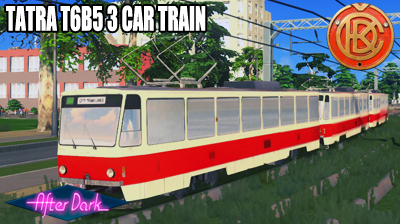 Author:
kowkamurka
Last revision:
19 Dec at 10:21 2015 UTC
Description:
Being the most perfect Tatra tram, T6B5 was the first serial electronic tram vehicle, built in 1983-2007 in Prague, Plzeň (Czech Republic) and Dnepropetrovsk (Ukraine). It was designed in 1983 to serve on Moscow tram lines, but failed city ride tests – off cource, not becouse it was bad, but Moscow tranport autorities and depot administration just were not interested in any changes and still wanted to use competely outdated, but simple and reliable Tatra T3 tramcar. So, there were only 2 prototypes of this type in Moscow – both were decommissioned in 2006 and one piece is still safe as a historicvehicle in Moscow City Transport Museum collection.
The next life of this gorgeous tramcar began in 1986, when during the modernization of tram system of Kiev a large party of this trams were purchased. From that year many of Soviet cities got these cars until the Soviet Union collaped.
After the collapse most of post-Soviet cities coudn't afford to buy this car (except several examples, like Toshket in Uzbekistan, wich got large Russia-oriented party of T6B5's, and the city of Tula in Central Russia, wich still could to buy some of this cars in the mid-90s), so many of new-built vehicles vere sold in Bulgaria (Sofia) and North Korea (Pyongyang, these cars were marked K).
In 90s in Ddepropetrovsk, Ukraine, some of thess cars were built by the Juzhmash plant (these cars are known as Tatra-Jug, or Tatra-South translating from Russian).
After the disbanning of CKD plant in Prague, several cars were built in Plzeň by Inekon group. These cars were sold in 2007 and now are working in the city of Ufa in Bashkirian Republic, Russia.
In-game model has:
~3000 tris
1024×1024 textures
150 capacity
80 km/h speed
2 trail cars
To use this vehicle as a proper tramcar you shall take a look on these mods:
1. IPT by DontCryJustDie – to put this cars on your lines
2. Sharp Juction Angles by Thaok – to built streetlines and loops
3. MoreTrainTracks by simon.royer007 – to built crossings where they couldn't be built
4. Tram stops by BL4CKST4LK3R_ – the place Your tram stops
5. AVO by SamsamTS – to avoid this car spawn on trans-continental lines. Also allows to chage speed ofthe vehicle.
This model is repainting on line color (route windows), but saves original livery. If you want I wikk make fully-repainting version later.
Enjoy!