Broomstreet Synagogue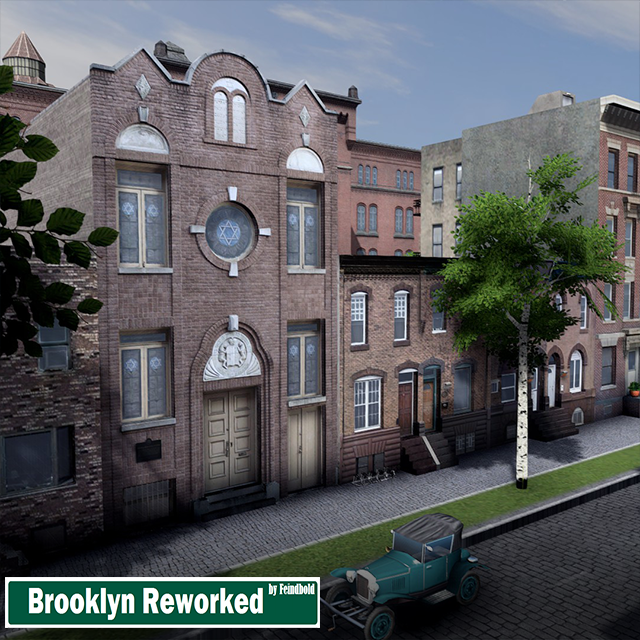 Author:
Feindbild
Last revision:
13 Dec at 22:28 2017 UTC
Description:
"Kehila Kedosha Janina (Holy Community of Janina) is a synagogue on 280 Broome Street between Allen and Eldridge Streets in the Lower East Side neighborhood of Manhattan, New York City. It was built in 1925-27 and was designed by Sydney Daub and is now the only Romaniote rite synagogue in the Western Hemisphere. Romaniote traditions are separate from those of both Sephardic and Ashkenazi Judaism, deriving their lineage in Greece for nearly 2000 years, long before the Spanish Inquisition.
The building was added to the National Register of Historic Places on November 30, 1999, and was designated a New York City landmark on May 11, 2004. It underwent a major restoration in 2006 by architect Leonard Colchamiro, a descendant of one of the community's original founders."
Please leave a vote if you like my assets, it helps a lot 🙂
Cleaning up my moddingfolder, It is a elementary school since I need a elementary school for the brooklyn set and these kind of small synagoges are all over New York, so making it a Landmark would really make sense to me.
-ploppable 1×3 elementary school
-custombuilding
-2130 triangles (diffusemap, normalmap, colormap, specularmap, illuminationmap 1024² each)
-74 triangles LOD (diffusemap, normalmap, colormap, specularmap, illuminationmap 256² each)
-Original building is located in Manhattan (well 280 Broomstreet as pointed)
I love to model buildings, if you really like my buildings/mods and you are feeling generous you can donate me a few dimes using the paypal link below 🙂
[www.paypal.me]
https://www.paypal.me/Feindbold