Tim Hortons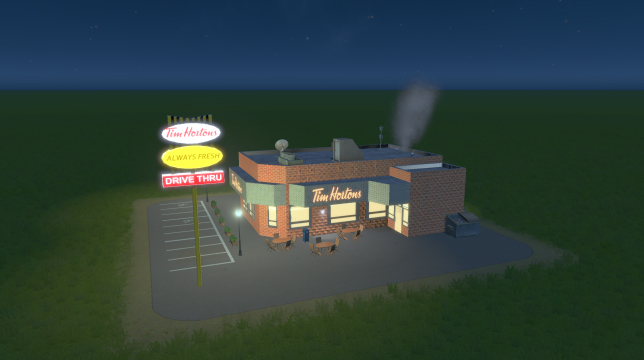 Author:
lopiv2
Last revision:
27 Feb at 10:09 2016 UTC
Description:
Tim Hortons by lopiv2
4×3 Growable Level 1 Commercial
626 Polys
Now with WIFI too!
Description
Tim Hortons Inc. (known internationally as Tim Hortons Cafe and Bake Shop) is a Canadian multinational fast food restaurant, known for its coffee and doughnuts. It is also Canada's largest quick service restaurant chain; as of September 2014, it has 3,665 restaurants in Canada, 869 in the United States, and 56 in the Persian Gulf region.[5][6][7] It was founded in 1964 in Hamilton, Ontario, by Canadian hockey player Tim Horton and Jim Charade, after an initial venture in hamburger restaurants.[8][9] In 1967, Horton partnered with investor Ron Joyce, who assumed control over operations after Horton died in 1974. Joyce expanded the chain into a multimillion-dollar franchise. Charade left the organization in 1966 and briefly returned in 1970 and 1993 through 1996.
Tim Hortons franchises spread rapidly and eventually overtook McDonald's as Canada's largest food service operator. The company opened twice as many Canadian outlets as McDonald's[10] and system-wide sales also surpassed those of McDonald's Canadian operations as of 2002.[11] The chain accounted for 22.6% of all fast food industry revenues in Canada in 2005.[10] Tim Hortons commands 76% of the Canadian market for baked goods (based on the number of customers served) and holds 62% of the Canadian coffee market (compared to Starbucks, in the number two position, at 7%).[12]
On August 26, 2014, Burger King agreed to purchase Tim Hortons for US$11.4 billion; the chain became a subsidiary of the Oakville-based holding company Restaurant Brands International on December 15, 2014, which is majority-owned by Brazilian investment firm 3G Capital.
If you like my work, please consider to donate
[www.paypal.com]