Avenue5_E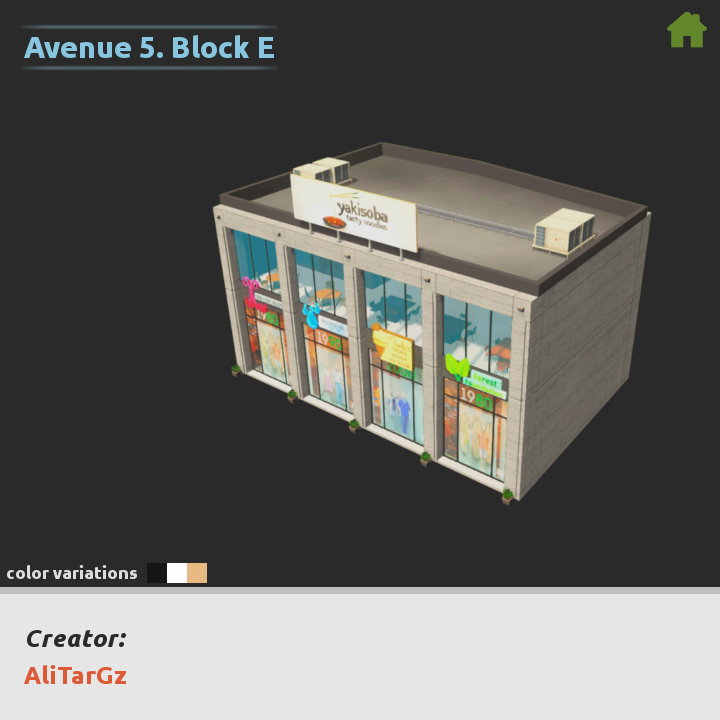 Author:
AliTarGz
Last revision:
10 Jan at 19:45 UTC
Description:
Hello, dear subscribers and other game fans!
This is a my new project. Residential complex – Avenue 5 in Astana city.
This complex will consist of several buildings.
In this building used: Exterior + interior.
You need RICO mod for use this building for highres. Or you also can use this as Unique building.
P.S. The building Avenue5_D will be added a little later..
Type of building: Commercial high RICO 3th lvl
Workers: 30
Construction cost: 2200
Maintance cost: 100
Color varitions: 3 colors
Size 3×3 cells
Floors: 2
—————————————————
Model info:
Tris = 852
Texture size = 1024×1024
Texture types = d, s, c, a
LOD info:
Tris = 26
Texture size = 256×256
Texture types = d, i, s, c
——————————–
If you like my building please rate up.
And you can support me on:
Patreon [www.patreon.com]
Yandex [yasobe.ru]