Northern Tundra Theme v33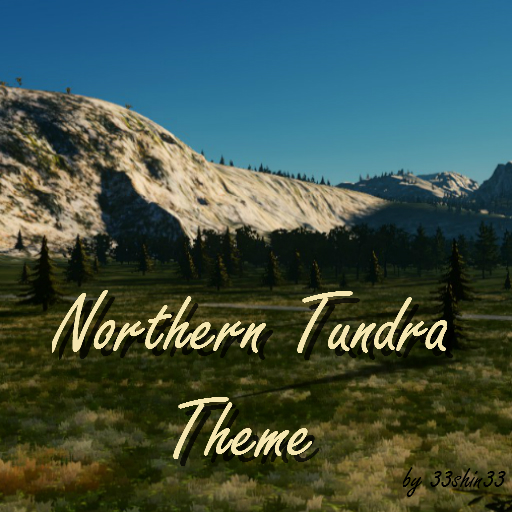 Author:
33shin33
Last revision:
15 Jan at 23:01 2018 UTC
Description:
Theme from map "Northern Waterfalls Vale" check it out! it has just been released!
http://steamcommunity.com/sharedfiles/filedetails/?id=1271577663
This theme was designed to be the most vanilla possible while being capable of simulating a winter ambient, no SnowFall DLC required !
I tried to make the best out of the editor light settings without the Daylight Classic mod, so you can have the best possible experience with or without it.
That being said though…I highly recomend the Starburg LUT to be used, I tested out many LUT and quite sincerely many worked out really nice choose your favorite one and try it out!
It took me a tremendous effort to make the textures viable for editing the most versatile types of Terrain you might like, with the right choice of trees and rocks I can totally see it being useful for a tropical envyronment aswell!
Cliffs are altitude friendly allowing canyons and grass is on point for screenshots during the night…
– Brilliant Nightsky!
– Fully customized Moon!
– Snow can be placed anywhere, good luck and enjoy the winter!
A gigantic shout out to these asset creators, for making this community a much better place:
Surface Rock Pack (OWL)
Summer Tree #2 (by Breeze)
Norway Spruce (by MrMaison)
Fall Aspen (by Aaron)
Sugar Maple Fall Set (by MrMaison)
Legacy Fall trees Pack (by MrMaison)
southern live oak (by MrMaison)
Bush Shrubs (by pdelmo)
Forest Floor Patch (by pdelmo)
Bare Tree D (by MrMaison)
Snow Pine Trees (by TPB)
Pine Tree (Matt Crux)
Starburg LUT (by Ronyx69)
Please don't forget to rate my work, thank you for subscribing!