Ferns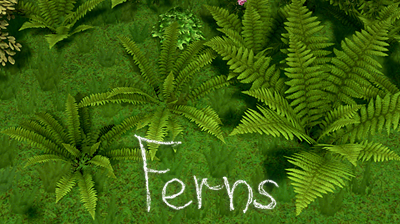 Author:
Voeille
Last revision:
29 Nov at 17:26 2017 UTC
Description:
I initially created those ferns for The Sims 2, and decided that they would fit here too. They're very versatile and should look good on any map with any theme, especially if you also use other workshop plants, but they nicely fit to vanilla plants too.
Overview
I made the textures using Obsidian Dawn's fern brushes[www.obsidiandawn.com]. The models are made using primitive shapes (in this case planes).
Triangle count:
Texture sizes:
256×512 for both. Subtle normal maps are included for a more detailed look.
Recommended Mods
You don't need those mods for the ferns to work, but they're definitely useful.
I hope you'll enjoy decorating with them!