Hex Colors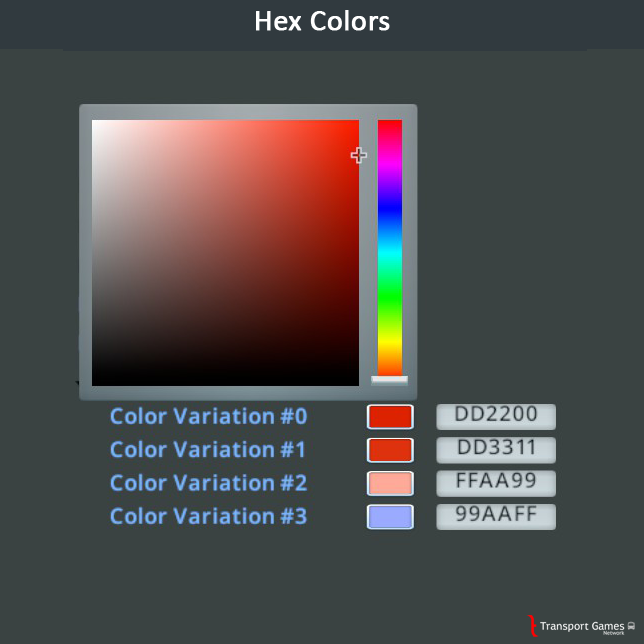 Author:
targa
Last revision:
2 Feb at 05:49 2018 UTC
Description:
Mod adds text fields for exact color indication in HEX format – FF0000, 00AADD, 11EECC etc.
I did it for myself, but I hope it is useful to other modders/asset creators.
Mod is incompatible with Ploppable RICO.
With the RICO enabled, the fields with HEX-color is not visible in the AssetEditor (as well as the standard tree/props panels is not visible with RICO on).
Tested for compatibility with:
81 Tiles
Advanced Buildings Editor
AnimUV Params
Asset ItemClass Changer
Asset Prefab(+Building) AI Changer
Asset UI Category Changer
Asset UI Priority Changer
Camera Positions Utility
Custom Light Effects
Extended Asset Editor
Fine Road Anarchy
ModTools
More Beautification
More Network Stuff
MoveIt
NetworkSkins
Prefab Hook
Prop & Tree Anarchy
Prop Line Tool
Prop Precision
PropRotating Params
PropSnapping
Transparency LODs Fix
Ultimate Eyecandy
In any case, write here in case of found bugs or incompatibility.
Репозиторий на GitHub'е[github.com].
TranslationFramework from BloodyPenguin was used to multilanguage support.
Many thanks boformer for modding tutorials[community.simtropolis.com].
Special thanks to BloodyPenguin for the tips.
News of Russian-speaking community Cities: Skylines – on our page vKontakte: Cities: Skylines[vk.com]