Huahine Island Polynesia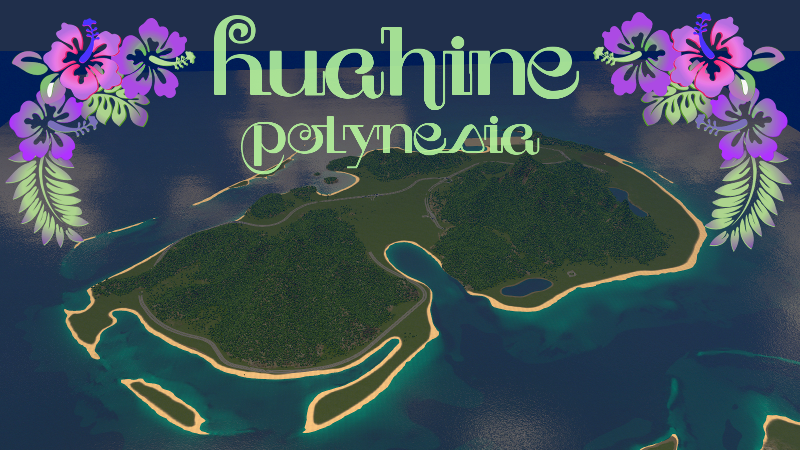 Author:
MrMiyagi
Last revision:
13 Apr at 11:10 2017 UTC
Description:
Far from any land, this functional map gives you the impression of being far out to sea, yet still manages to have two highway and two rail connections (very well hidden in a tunnel!). Sure, it's not for the obsessiely realistic player, but it does ensure your city has the right stuff to make it a properly functioning map.
This map will fit a medium city. It#s a smaller island than others I have done, but it's not small, either.
An island map with no connections should ostensibly work as well, but I prefer this little insurance policy. The tiny piece of land in the far corner of the map is nearly impossible to see, and only shows up as a small light at night in the far distance (like a ship out to sea).
– There are only 102,000 trees (out of a max of 250K), and vanilla low poli trees were used so all users can enjoy this map. There are new fully -decorated maps coming in the future – this one's for everyone to be able to use 🙂
– This map was made with bisabeol's New Caledonia with regular concrete. You don't have to use the custom theme and can use any you wish (it is temperate based), but just look at that water!
– Because it is the challenging kind of terrain I like to build on, I went ahead and built in an island highway system for you, complete with many tiny but efficient highway intersections that I use in my own games..
– Some are built by me, many are made by Arisandi, whose creations you can find here: http://steamcommunity.com/profiles/76561198242231030/myworkshopfiles/?appid=255710
– What lies beneath (for example, the tunnels from edge of the map to the island) is not meant to be reaistic, it's meant to be simply functional, so that what's above ground functions as well as it can given the tight quarters.
This island map is based on Huahine Island in French Polynesia. Its scale is changed, and there have been many changes to the playable terrain area (such as a greatly increased flat playable area compared to the real island) to make it a fun and slightly challenging map.
The optimal land for industrial harbor has been leveled out and cleaned up so that all you have to do is put quays down. It is covered in oil resource