Sunset Isles-After Dark Contest Tropical 9 Tile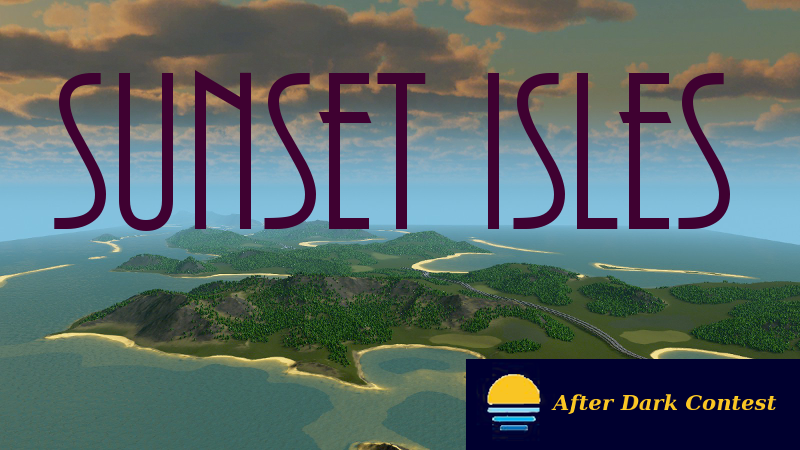 Author:
MrMiyagi
Last revision:
28 Aug at 17:05 2015 UTC
Description:
Two maps for you to choose from to build for the Cities Skylines After Dark Trailer Contest. The winning city will be the new DLC's trailer! Maps built with the requirements in mind as well as a carefully designed terrain to make your city look outstanding lit up at night.
European – Amalfi Peninsula (the end point of the real Amalfi Coast, with many changes for game)
Tropical – Sunset Isles (fictional island, similar to New Caledonia and Madagascar, but optimized for contest)
These were originally both for myself, but I simply not that good at designing a city that looks great, so I gladly share this with you all to use. I don't need any recognition! Your having fun with my maps is all the reward I need! Go win, my friends!!
Designed specifically for the contest (but you can enjoy even without doing the contest!):
+ 9 tile play optimized
+ No mods required (nor allowed!!!!!)
+ Primary shorelines are East/West, so you have a lot of area to view the sunsets and sunrises!
+ Terrain raises in natural looking stages, allowing your city to look great by staggering up the hill (instead of a flat landscape). This will look great when lit up at night.
+ Carefully preconstructed harbor / shipping port land that fits harbors, a road, and a rail station each, as well as space for a few service buildings to make it look great without mod buildings.
+ Hidden areas for water utility buildings (I recommend placing the sewer plants on the harbor area)
+ Careful attention to the roadways and rail outside of the buildable zone (you will want to make the rail and highway inside of the playable area your own
About the contest, from Cities: Skylines:
"We have to admit something… You guys and gals in the community are kind of awesome at making good looking maps and cities. Better than us, to be honest.
Having that said, we would love to feature one of your cities in an upcoming trailer!
* Max 9 tiles
* Max 65k citizens
* NO mods or custom assets
* Attach screenshots to a PM that represent your city, we'll respond and ask for the save file if it looks interesting!
Deadline: September 3rd"
See:
https://www.facebook.com/CitiesGame/photos/a.334225733419812.1073741829.309816145860771/504560066386377/?type=1&theater
Cities Skylines Facebook Page is where you submit your city's photos: https://www.facebook.com/CitiesGame?fref=ts