Bilbao Bay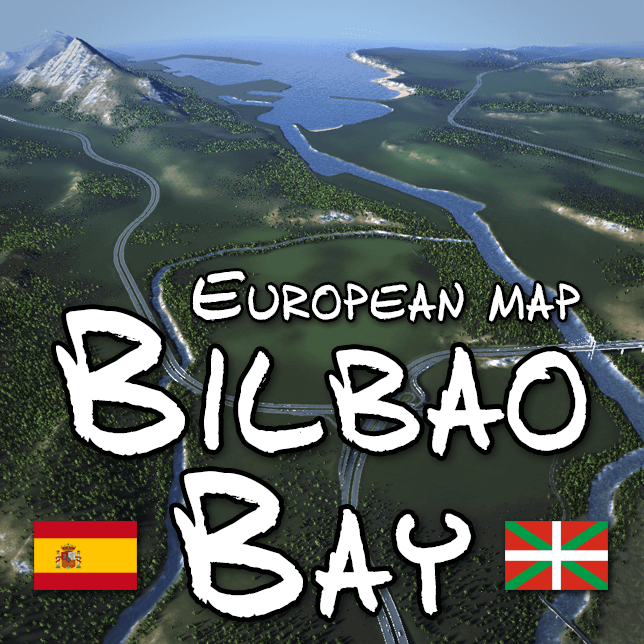 Author:
Khanador
Last revision:
23 Nov at 00:10 2017 UTC
Description:
Bilbao Bay is European map based on area of the estruary of Bilbao (Ría de Bilbao) in Biscay (Basque Country) in Spain.
This is the map I started over half a year ago and never finished, but eventually I decided to share it with the community. I wanted to create map dedicated to all players who put effort in detailing their cities and prefer sandbox gameplay on all 81 tiles. Therefore you will find many interesting areas on spread around whole map like Port of Bilbao, which you can develop using awesome assets from the workshop. The map is fully playable with 25 tiles though so everyone should be happy.
Check below for the list of recommended mods.
Remember, if you like this map, please rate. It helps community.
>> What Map review by BonBonB <<
Overview
I prefer creating maps available for every player and that is why I didn't use any assets from DLCs – This map is 100% pure vanilla. The same applies to trees or other props from workshop. I know that default trees are ugly, but again, not everyone has powerful enough computer to use hundreds of assets and mods… and creative sandbox players will most likely plant and replace vegetation with beautiful MrMaison's trees or other props of their choice. You may be surprised by the amount of natural resources, but I used them mostly for map painting and adding colors for ground variety. I suggest using custom map theme, because resources might not look good using default ones.
Features
– European theme
– Optimised 81 tiles gameplay, good for 25 tiles.
– All resources available.
– All outside connections available.
– Default only trees.
– No DLC required
– No mods/props required
– Variety of flat, hilly and mountainous areas
– Ocean, rivers
Note on trees
Whenever you build on trees they are not removed just hidden. I strongly suggest bulldozing/deleting in the area you want to build before starting it. It will increase trees and props limit and save you from unwanted hidden data.
Final notes
I strongly suggest using 81 Tiles mod by BloodyPenguin with this map.
Screenshots were taken in various Theme/LUT configurations, but all with Daylight Classic mod by BloodyPenguin which I suggest using. I also use Theme Mixer mod by TPB to give maps look I want. This mod allows you to mix textures from different map themes. My base theme is usually Realistic V1.4.5 European map theme by Captain Soap.
Recommended LUTs:
– Definite Vision by Captain Soap
– Satellite by creativeDEX
My maps
Donostia – San Sebastián – Temperate
Bilbao Bay – European (this map)
North Bend – Boreal
Schwyz, Alpine Valley – European
Aegean Strait – Temperate
Old maps which need to be updated, but feel free to check them out.
Donegal, Ireland – European
Montserrat – Carribean – Tropical
Pohnpei Island – Pacific Ocean – Tropical
Carrow Cliffs – European