Medium Silos [3×2]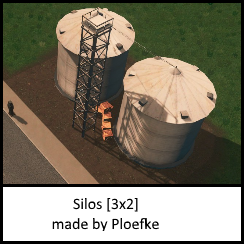 Author:
Ploefke
Last revision:
8 Feb at 12:08 2017 UTC
Description:
Two farming silos that I made. It functions an agrincultural building lvl 2. This silo is a part of a default asset, but I liked it more apartly. I kept the default tuxtures, which means that the file size is bigger than it should be. However, with the improved loading screen mod, it will load easier. All credits go to Collosal Order ofcourse.
Stats:
agricultural industry lvl 2 (processing)
Tris: 1470
LOD tris: 54
Includes A, D, C, I maps.
Includes colour variations.