Shinkansen N700 JR West (9 Cars)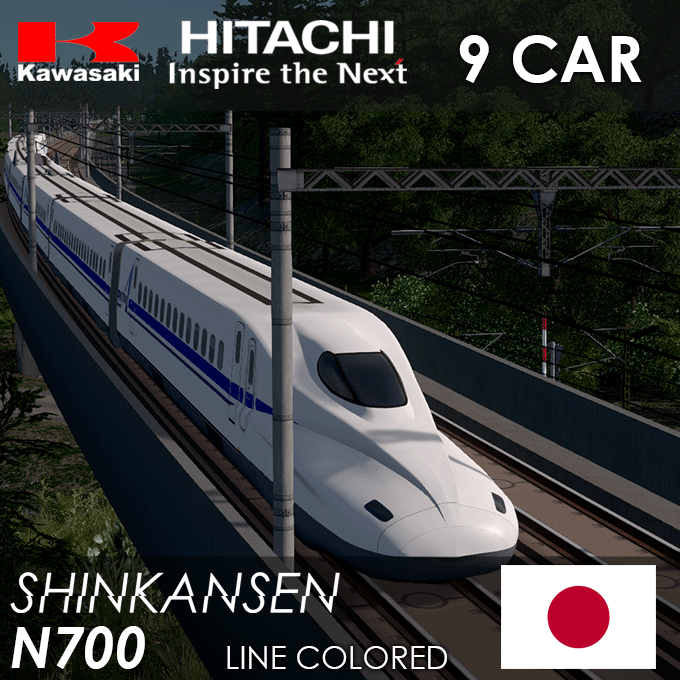 Author:
REV0
Last revision:
15 May at 20:14 2018 UTC
Description:
JR West, 720 passengers
Big in Japan.
The N700 series (N700系 Enu nanahyaku-kei) is a Japanese Shinkansen high-speed train with tilting capability developed jointly by JR Central and JR-West for use on the Tokaido and Sanyo Shinkansen lines since 2007, and also operated by JR Kyushu on the Kyushu Shinkansen line.
Part of Shinkansen Fleet Collection
Technical Details
Line Colored
MaGiCaLLy optimized: All set uses 1 texture file, use LSM to significantly optimize performance.
Good textures
720 passengers
300km/h
Custom LOD
End car is set to engine, no additional mod needed
Detailed roof, windows, based on real set
Optimized triss count
Recommended Mods
Use Improved Public Transport 2, in order to assign this train set to your train lines:
http://steamcommunity.com/sharedfiles/filedetails/?id=928128676
Downvote Fairy
There is a downvote fairy in workshop, who is downvoting every vehicle asset that gets released not done by him. If you like this model, make sure to upvote it.
Acknowledgements
Project took approx 1 week to complete. onedollalama sponsorized the project development.
If you have any request, refer request form located on my Steam profile.

https://www.paypal.me/REV0CS
Keywords for Workshop search: Shinkansen, Hitachi, N700, Series, JR West, Central, bullet, train, japan, high, speed