Ike's Bikes *After Dark DLC* Tourism commercial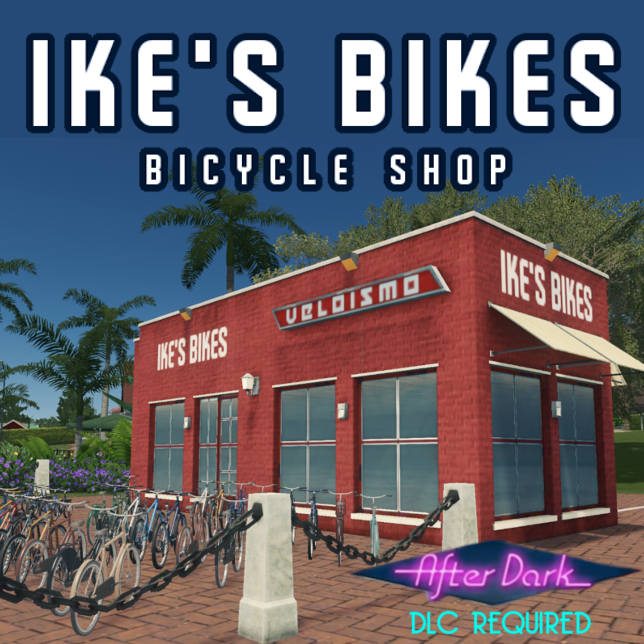 Author:
MrMiyagi
Last revision:
4 Jun at 17:43 2018 UTC
Description:
For After Dark DLC owners. 2 required items. DLC-free version is located here: https://steamcommunity.com/sharedfiles/filedetails/?id=1402949997.
The two separate versions have different building colors and different arrangement of bicycles, so that if you want to have both tourism and the No-DLC versions, you will have even more variety
I like Ike! Ike's Bikes is your one-stop shop for all things bicycle. T
Just bringing some more love to a part of the workshop that doesn't get much attention. 🙂
____________________
Miyagi Asset Concept: Made for Us, the Potato Players!
– minimum number of additional items, all well-optimized, popular items (ones you might already have)
– sharing the same subscriptions across buildings, which means if you subscribe to multiple buildings by me, this will keep your additional required items count low (helps me, too!)
– small textures (usually max 1024×1024)
– tasteful, soft nighttime lighting
Triangles: 1676 / 76
Textures: 512×512 / 32×32
*Note, the bicycles are a bit on the higher end of prop tris, but that's going to be the case for anything as complex as a bike. It has been very well optimized for a bicycle. When in doubt, you can always subscribe to this item and place your own props – missing props will not cause any problem.
——————————————-
If you'd like to treat me to a hot cocoa or book of maps, you can do so here at Paypal 🙂

[www.paypal.me]