SEPTA ADtranz M4 (Monorail Edition)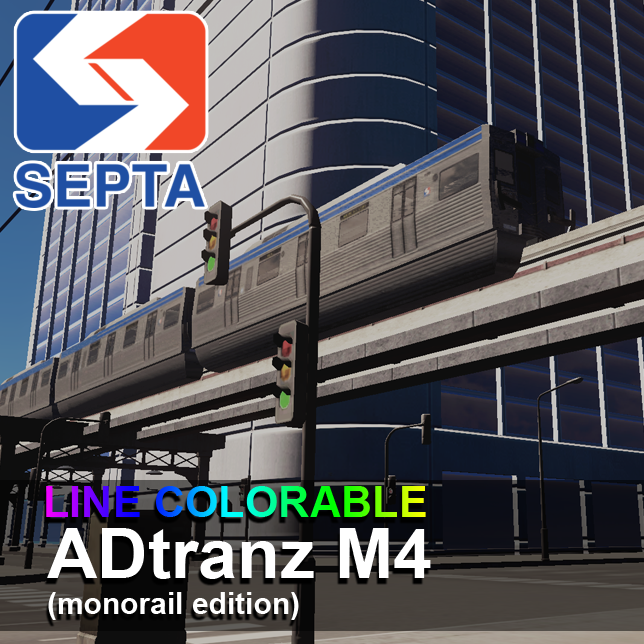 Author:
djantir
Last revision:
17 Jun at 22:45 2018 UTC
Description:
The ADtranz M4 services the Market-Frankford Line in Philadelphia, PA under SEPTA, and for the majority of its stretch, runs on an elevated track, with one portion sinking into a tunnel underground to dodge the dense office and historic/tourist districts of the city. I can't seem to find the request one user made, but I liked the idea to convert this elevated metro train into a monorail, due to its nature to ride directly over roads, and be hugged by buildings on either side.
No worries. I intend to make an actual metro and/or train version of this vehicle asset for those who either use the appropriate mods, or for those who just don't have the Mass Transit DLC. I only did this one first, because it seemed like a fun idea to create a mono-strosity.
VEHICLE STATS
———————–
Length: 4-cars
Polys: 709
Tris: 1426
Passenger Count: 160 (per car)
SPECIAL NOTE
———————-
If you happen to be experiencing a strange, glazed look to the texture, please understand that I do not know how to remove that. For my gameplay experience, I seem to only get this with monorails, including the vanilla monorail asset. If anyone knows how to remove this effect, please let me know. Thank you!