[Beginners-Friendly] Parallel River Province (Vanilla)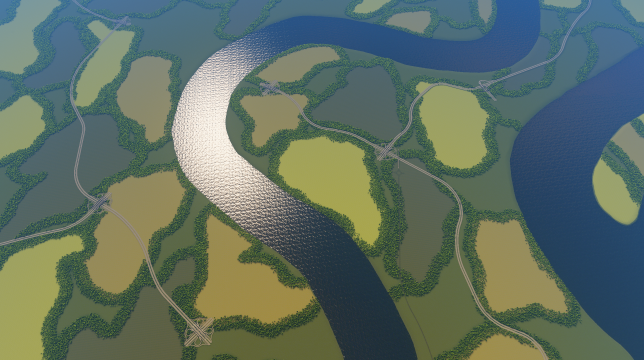 Author:
Scorpidoo
Last revision:
5 Jun at 10:59 2018 UTC
Description:
Parallel River Province
is a fictional that's very beginners friendly, the map is also with flat terrain. There are a 4 winding inlets with shipping lanes, all the way to the center of the map. Resources abound, including trees (all vanilla). The roads are unfinished because there are a number of possibilities, and I thought I'd leave it up to you to decide how to handle that. Decoration goes all the way to the edges of the map, so you can enjoy this with the 81 Tiles mod.
Fast Facts!

Themes:

Unbound-Map, you can use any theme you like.

Outside Connections:

Land – Road & Train.
Water – Ships; Cargo & Passanger.
Air – Airplanes.

DLC's:

Mods/Assets:
Missing basic mods? Go here: (recommended)
Startup Mods – Best Mods Collection
– Simple mods handpicked and tested there you can build on with own assets as you progress.
Too manny Assets & Mods etc? Go here:
Guide – Unsubcribe all mods at once
– Remove all mods and assets with 1 click.
Thank you for:
★ Rating this Map.
✍ Leaving your impressions below.