All Souls Cemetery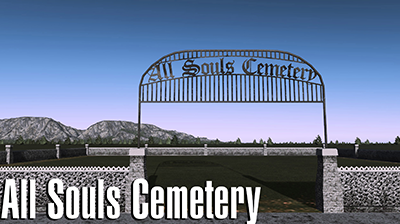 Author:
220hertz
Last revision:
1 Jul at 04:00 2018 UTC
Description:
A blank cemetery for you to decorate. All souls welcome. We all get there one way or another.
In this download there is one cemetery building – a fence with an 8×8 footprint – Same stats as the vanilla cemetery, only there's nothing inside the fences. It's a blank canvas-type thing. The download also contains two mausoleum props, a matching gazebo prop and two gravestone props. The idea is you plant them where you like, if you catch my meaning.
Asset Info
Check the images above for texture and mesh info. Nothing too heavy.
The colour maps are set, if you need to darken things up with the Painter mod, but I doubt you will. Most of this stuff looks pretty good in both the vanilla LUTs as well as the high contrast ones.
No DLC needed for this – but you will need either the Find It mod or More Beautification – as well as Prop and Tree Anarchy to use everything and decorate your cemetery. Anarchy is kind of a prerequisite here. I mean, it's not required, but, you know…
About
This was the other thing I was working on this week. It was meant to be a dynamic asset that would fill up you put more people in the ground. Problem is, sub mesh lods are broken at the moment, and any custom item using them gives a lod diffuse null error – and all your submeshes turn white or whatever when you reach LoD distance. The devs have acknowledged this and plan to fix it on the next patch. When it is fixed, I'll likely do the asset I'd originally planned to do. It was supposed to be a mixed use park/cemetery building.
In addition to what I have, I highly recommend BachtoBaroque's Cemetery Pack. His collection adds more standalone cemetery stuff than I've made here, and includes some other interesting items. This really wasn't meant to be a detailing asset – but now that it is, his stuff and mine should give you everything you need to make a super cool and functional spot for your dead.
Please let me know if this cemetery does not fully contain your dead. Call an exorcist in the meantime. Also, one of those mausoleums… really happy with it. Thanks again.