Taco Bell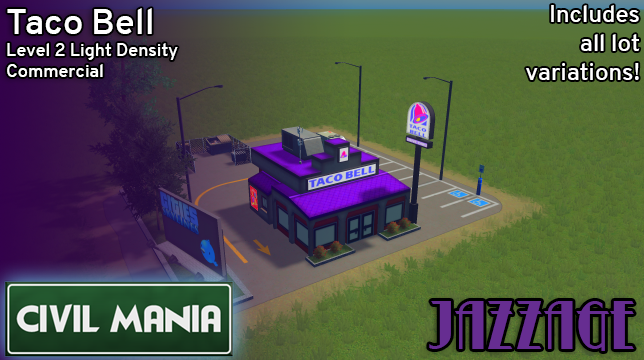 Author:
Althazar
Last revision:
29 Jun at 05:10 2018 UTC
Description:
Time to unlock the power of the dollar and the big pack of toilet paper for you cims can now LIVE MAS!
Do you have cravings of fried chicken that's curved into a shell and filled with a salad mix? Do you crave a bunch of Dorritos tacos? Perhaps craving a Baja Blast Mountain Dew? You want to eat like a king but like, only have $5.50? Or are you wondering how you can get out of the boring Overwatch tournament that your friends are having and realized that eating food from the Irvine based taco stand can get you out of the Irvine made game that's just loot boxes and butts?
Besides, who would win the great franchise war?
Not an Official product of Taco Bell or Yum! Brands.
Props are here:
Workshop Prop Collection