Troyes Market Hall [France]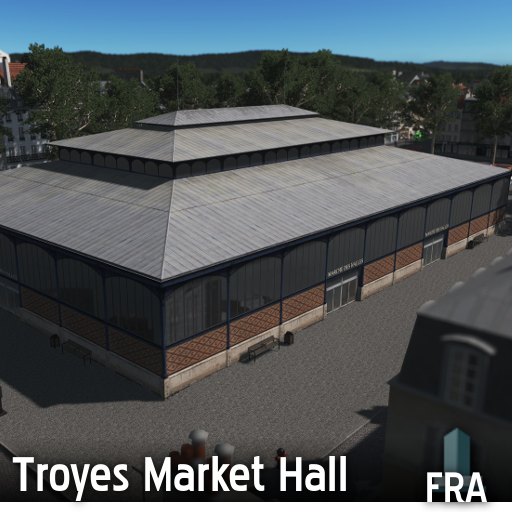 Author:
Lost Gecko
Last revision:
12 Jul at 22:24 2018 UTC
Description:
Traditional 19th century glass & iron market hall from Troyes, France. Finished in 1867. Level 2 Unique Building. 4 colour variations on the metal framing, but you can use the Painter mod to change the colour to whatever you like.
Looking for a bigger market hall? Market Hall (RICO) by Gèze from Dijon, 130km away from Troyes!
Stats

Footprint: 6×8
Building type : Unique Building level 2
Construction cost: 10000
Maintenance cost: 100
Fire hazard: 1
Fire tolerance: 20
Tourists: 80/80/80
Attractiveness accumulation: 6
Entertainment accumulation: 80
Entertainment radius: 300
Workers: 24/24/12/0
Garbage accumulation: 0
Sewage accumulation: 4
Water consumption: 4
Noise accumulation: 5
Noise radius: 20

Model

main model
tris: 4618 (96 tris/cell)
textures: 512×2048 (diffuse-normal-colour-alpha-specular)
LOD
tris: 38
textures: 256×256 (diffuse-colour-specular)
Suggested mod
Like my work and want to support what I do? Feel free to drop a small PayPal tip!
[www.paypal.me]
Workshop page
Simtropolis forum[community.simtropolis.com]
Mind map[www.mindmeister.com]
If you like this asset, do not hesitate to rate!