Bombardier TWINDEXX Vario: DB Regio (Prop Pack)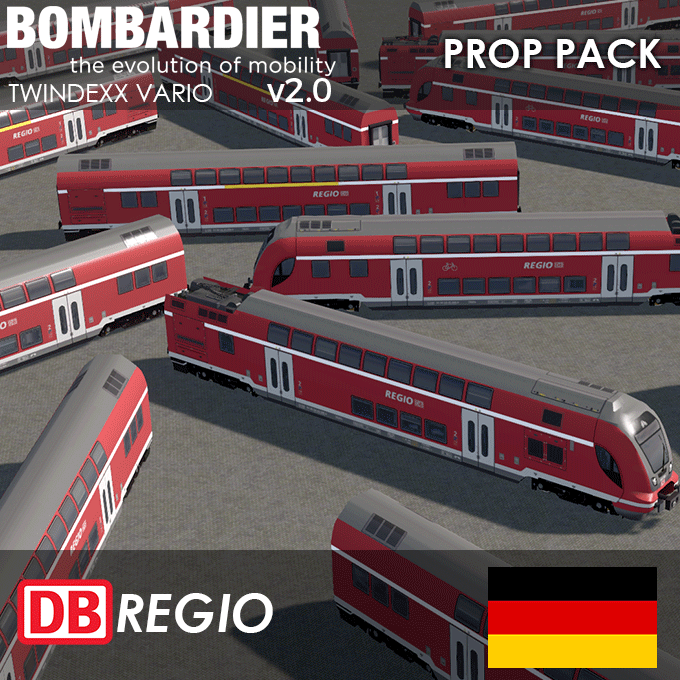 Author:
REV0
Last revision:
26 Jun at 11:18 2018 UTC
Description:
DB Regio – Prop Pack
As a part of collections:
Pack Content
Power car, without logo, with ID: 445 008
Passenger car, 2nd class
Passenger car, 1st class
Technical Details
MaGiCaLLy optimized: Cars use 1 texture set, thus using LSM improves performance.
Good textures
Custom LOD
Detailed roof, windows, based on real set
Optimized triss count
Recommended Mods
More Beautification in order to plop them in game.
Use Find it to find: "variodbr" OR
"REVO, REV0, Twindexx, vario, DB Regio, dbr"
Downvote Fairy
There is a downvote fairy in workshop, who is downvoting every vehicle asset that gets released not done by him. If you like this model, make sure to upvote it.
If you have any request, refer request form located on my Steam profile.

https://www.paypal.me/REV0CS
Keywords for Workshop search: Bombardier, Twindexx, Vario, double, decker, deutsche, bahn, dbregio, db, regio, doppelstock