HDB 640841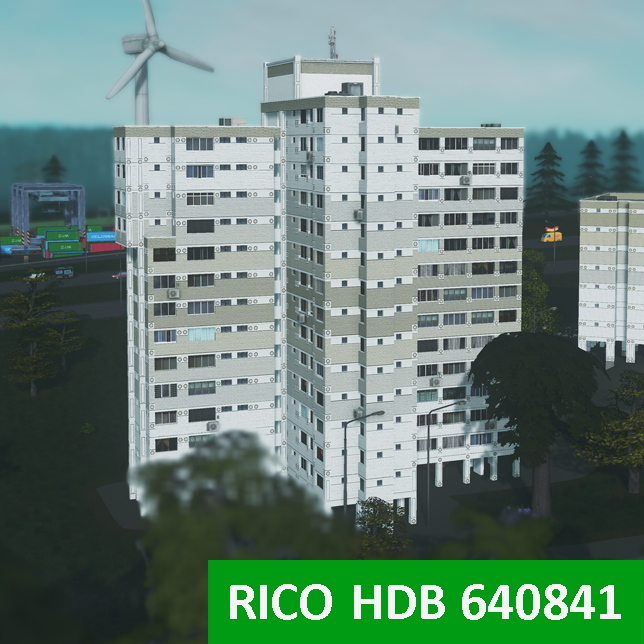 Description:
HDB 640841 by Ali Cafe Hao YEAH!
HDB 640841 (Jurong West St 81) by Ali Cafe Hao YEAH!
If you like this, please give it a 👍, it really helps a lot!
And feel free to leave any comments, feedbacks! =)
I used his mod to create the corridor lighting in these HDB buildings. Something that is lacking in my early submission. I tried using the illumination map to mimic the corridor light previously, but it just doesn't work as well. His mod is a god send.
Besides that, I have also learn new things when making this asset such as reducing the model's Tri counts almost by 50% compared to my previous asset. I feel this is a good optimization and i will integrate into my workflow and continue doing it.
This building is not a grow-able! It requires RICO Mod to plop, else it will be under Unique buildings.
This is a attempt to make these HDB buildings as close to real size as possible. Hence the footprint size is beyond the game's grow-able limit, and has to be placed Unique buildings and requires RICO Mod.
15-Story Building
– Level 3 RICO only
– After Dark ready
– 6709 tris, 2048 x 2048 textures
– Custom LOD model: 84 tris, 256 textures
RICO Ready
– Size: 4×5
– Service: Residential
– Sub-service: High
– Level: 3
– Home: 80
– Cost: 251,200
– UI-Category: reshigh
I really enjoyed creating these buildings. HDB buildings is the core of Singapore's architecture.
If you like my work and like to show support like buying me a can of Coke, I have added a Paypal link below. Thanks for the support and feedback!
[paypal.me]