Chinese Stone Bridge 漢白玉石橋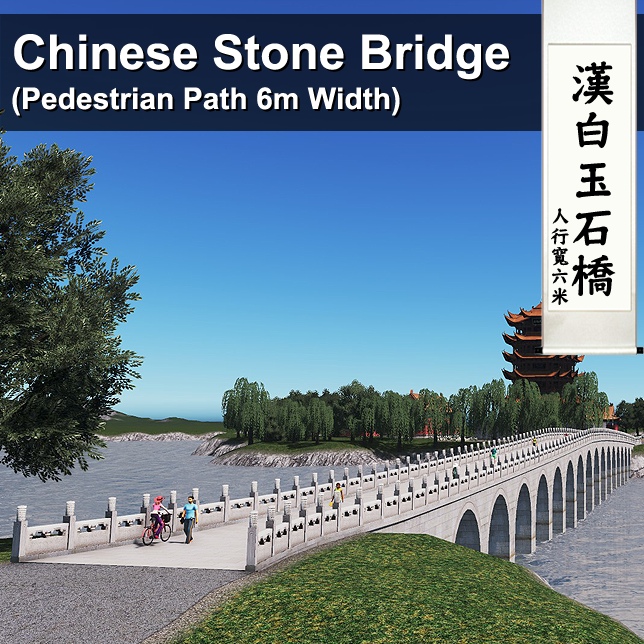 Author:
Emperor Li
Last revision:
12 Sep at 10:43 2018 UTC
Description:
Chinese bridge of white marble.
It's a pedestrian path with 3m half width for elevated and bridge segment and 4m for ground path in order to create the typical opening.
人行道高架、橋部分半寬3米,地面半寬為4米以做變寬入口,
Connect with pedestrian path different half width to create opening of different width.
和不同半寬的人行道連接,來做不同的入口。

Segment length is 8m, so you need to add nodes in 1u distance to prevent over stretching. Please watch video for how to build it.
Don't build any junction or curved road. It will glitch. You can bend it a little but not too much.
段長為8米,請在1格距離內加入節點防止欄杆過度拉長。
請參考視頻教程。
不要製作交叉口或彎道,會出現錯誤,可以稍微彎曲。
Have fun!
Segment
Tris: 792 (LOD:80)
Bridge
Tris: 882 (LOD:80)
Simtropolis[community.simtropolis.com]
—————————————————————————————-
Tags: chinese architecture, handrail, railing, Beijing, Peking, China, Forbidden City, 北京, 中國傳統建築, 中国传统建筑, 中式, 中國園林, 中国园林, 欄杆, 栏杆, 故宮, 故宫
by Emperor Li