Mexican Residential Buildings 01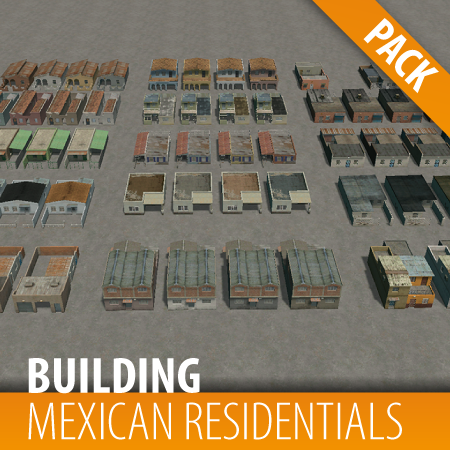 Author:
Beardmonkey
Last revision:
27 Sep at 22:52 2018 UTC
Description:
Mexican Residential Buildings 01 by Beardmonkey
This is a pack containing 16 low density residential buildings inspired by Ciudad Juárez in Mexico. They are custom made for Youtube series Bordertown by two dollars twenty.
Watch the Bordertown episode where these assets are featured here:
https://youtu.be/hsuASeH6PUU
These assets are growable but were designed to be placed by hand using the mod Plop the Growables by TPB: https://steamcommunity.com/sharedfiles/filedetails/?id=924884948.
All assets in this pack has custom LOD:s.
There are no props needed for these assets. I might release a pack of building using props later on.
Texture size is 1024×512 px and 128×128 px for LOD:s. I've use a lot of textures from textures.com as well as my own.
If you use the Find It! mod by SamsamTS search for MXR for easy access. Get Find It! here:
https://steamcommunity.com/sharedfiles/filedetails/?id=837734529
Mexican Residential 001 MXR
Tris: 376
Tris LOD: 82
Mexican Residential 002 MXR
Tris: 322
Tris LOD: 82
Mexican Residential 003 MXR
Tris: 202
Tris LOD: 88
Mexican Residential 004 MXR
Tris: 952
Tris LOD: 46
Mexican Residential 005 MXR
Tris: 302
Tris LOD: 50
Mexican Residential 006 MXR
Tris: 360
Tris LOD: 64
Mexican Residential 007 MXR
Tris: 858
Tris LOD: 78
Mexican Residential 008 MXR
Tris: 326
Tris LOD: 42
Mexican Residential 009 MXR
Tris: 924
Tris LOD: 119
Mexican Residential 010 MXR
Tris: 260
Tris LOD: 62
Mexican Residential 011 MXR
Tris: 256
Tris LOD: 64
Mexican Residential 012 MXR
Tris: 430
Tris LOD: 78
Mexican Residential 013 MXR
Tris: 388
Tris LOD: 35
Mexican Residential 014 MXR
Tris: 430
Tris LOD: 87
Mexican Residential 015 MXR
Tris: 469
Tris LOD: 79
Mexican Residential 016 MXR
Tris: 447
Tris LOD: 87
_____________________________________
Screenshots taken with Daylight Classic mod by BloodyPenguin:
http://steamcommunity.com/sharedfiles/filedetails/?id=530871278