UK Detached House #2 – Level 2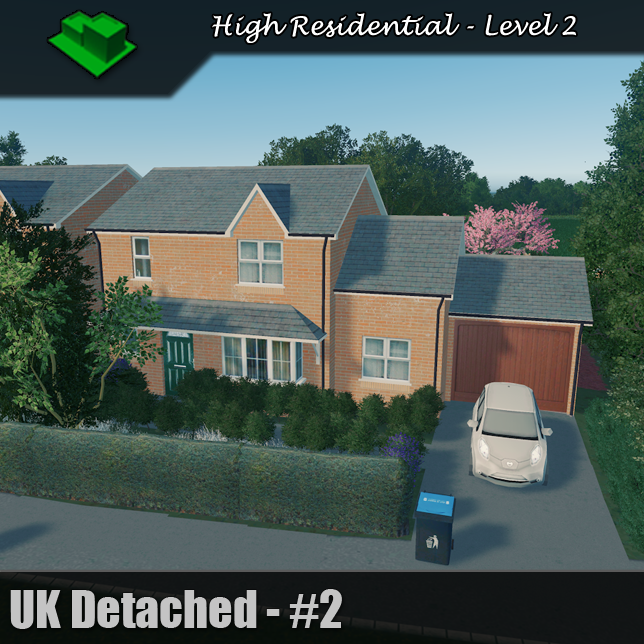 Author:
rik4000
Last revision:
30 Sep at 09:38 2018 UTC
Description:
UK Detached House #2 – Level 2

This is one of a few UK detached houses I've been creating recently. I have left the asset blank to give you more decorative freedom. The following mods are highly recommended to get the best out of this asset:

* Move It!
* Plop The Growables
* More Beautification
* Prop & Tree Anarchy
* Prop Precision
Building Stats

Size: 2×2
Service: High Residential
Sub-service: High
Level: 2
Where is this found in game?

This building is a level 2 high residential growable.

Do these assets require any props?

No, this is now up to you to decorate.

Model Info:

640 Polys
1,404 Tris
1024 x 1024 Texture res (diffuse, Normal, Specular, Illumination)
Custom LOD (155 tris)
Additional Info & Thanks:
I really hope you enjoy using these assets and i hope they are making your cities look a bit more UK like, If you do like them, it would be great if you could rate them up 🙂
Please follow me on Twitter & Instagram [www.instagram.com] for updates on what i'm working on.
—————————-
If you're feeling generous and would like to make a donation then please use the link below. Any donation would be massively appreciated.
PayPal [www.paypal.com]
Thanks, enjoy the asset and enjoy the game 🙂