City Tram Depot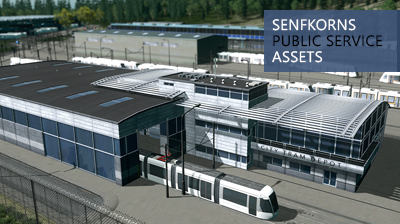 Author:
Senfkorn
Last revision:
10 Oct at 22:47 2018 UTC
Description:
Hi community,
first I had the idea of programming a battle royale mod for Cities Skylines … but then I thought it would make more sense to create a new tram depot asset. So here it is. I've made a small one that fits everywhere in the city. It has only one spawn point. Means trams are spawning regularly but leaving the depot will take a bit longer. Furthermore you have the choice of placing exits in two directions. Please take a look at the screenshots.
I'm under the impression that using trams in CS is not very popular. They are loud, slow and way too expensive, compared to a working metro network. That is why I made the settings more user-friendly.
Unfortunately there is no way to get this asset working without subscribing to Tram Station Track mod. The vanilla tram depot uses a special tram track I can't find/use in the asset editor. I even can't say which one it is and how to get it. If some gentlemen out there could give me a hint how to fix that little issue, I would do that immediately.
Have fun!
You like my assets and want to support my work? That's cool! Thank you.
PayPal[www.paypal.com]
About the asset
Type of building: Transport Tram, Tram Depot
Size: 10×5 (8×12)
Construction Cost: 10000 (40000)
Maintenance Cost: 192 (768)
Electricity Consumption: 10 (15)
Fire Hazard: 1 (1)
Fire Tolerance: 40 (40)
Garbage Accumulation: 4 (8)
Sewage Accumulation: 5 (5)
Water Consumption: 5 (5)
Uneducated Workers: 8 (5)
Educated Workers: 22 (5)
Well Educated Workers: 28 (5)
Highly Educated Workers: 4 (5)
Noise Accumulation: 30 (75)
Noise Radius: 40 (100)
Main asset info
Tris main building: 4669
Texture size: 1024×1024
Texture types: diffuse, alpha, specular, illumination & normal map
LOD info
Tris: 173
Texture size: 256×256
Texture types: diffuse, alpha, specular & illumination map
Screenshots
Screenshots taken with Realistic LUT V1.2 and Daylight Classic on. But all assets I create are adjusted for the vanilla game colour settings.