Grey I-beam Pack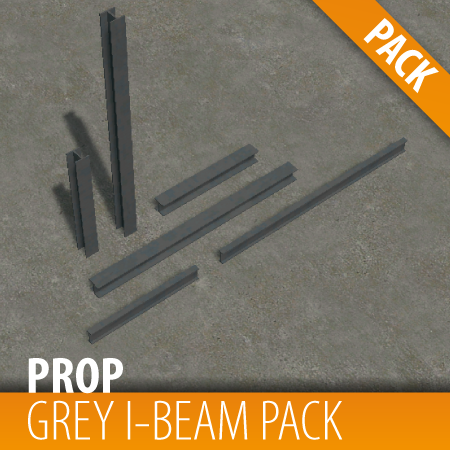 Author:
Beardmonkey
Last revision:
22 Oct at 21:01 2018 UTC
Description:
Grey I-beam Pack by Beardmonkey
This is a pack of six grey steel I-beam props for construction sites and such.
If you use the Find It! mod by SamsamTS search for PREFAB for easy access. Get Find It! here:
https://steamcommunity.com/sharedfiles/filedetails/?id=837734529
Also use suffix for searches:
H4M = Horizontal 4 m long
V8M = Vertical 8 m tall
All assets in this pack has custom LOD:s.
Make sure to out check my collection of construction site props:
https://steamcommunity.com/sharedfiles/filedetails/?id=802816384
______________________________________________________
Prefab House Grey I-beam 01 H4M
Tris: 44
Texture: 256×64 px
LOD tris: 12
LOD texture: 32×8
Prefab House Grey I-beam 01 H8M
Tris: 44
Texture: 256×64 px
LOD tris: 12
LOD texture: 32×8
Prefab House Grey I-beam 01 V4M
Tris: 44
Texture: 256×64 px
LOD tris: 12
LOD texture: 32×8
Prefab House Grey I-beam 01 V8M
Tris: 44
Texture: 256×64 px
LOD tris: 12
LOD texture: 32×8
Prefab House Grey I-beam 02 H4M
Tris: 44
Texture: 256×64 px
LOD tris: 12
LOD texture: 32×8
Prefab House Grey I-beam 02 H8M
Tris: 44
Texture: 256×64 px
LOD tris: 12
LOD texture: 32×8
_____________________________________
Screenshots taken with Daylight Classic mod by BloodyPenguin:
http://steamcommunity.com/sharedfiles/filedetails/?id=530871278