Coast Redwoods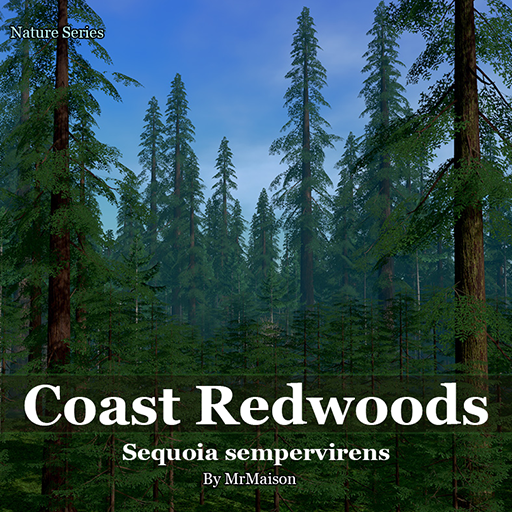 Author:
MrMaison
Last revision:
25 Oct at 04:04 2018 UTC
Description:
Coast Redwood by MrMaison
Introducing the tallest trees in the world. Coast Redwood trees (Sequoia sempervirens). This is a 4 piece set. 3 large Redwood tree variations at different heights. The tallest goes up to 346 feet (52.9 meters). I also added a young version that grows 16 to 25 meters (52-83 feet). They are great for filling in the Redwood forests foliage. These are great for Pacific Northwest scenes or if you just wanna make a tall forest with old growth.
Not only are these the tallest living trees but also the oldest living trees on earth. They grow up to 379 feet and live 1,800 years or more. The Coast Redwoods are found in a narrow strip in northern California to southwestern Oregon USA along the west coast. They are also introduced in places like New Zealand and Great Britian. Redwoods used to thrive throughout the northern hemisphere but sadly only 5% of the old growth forests remain due to extensive logging that started in the 1800s well into the 20th century. The oldest growth forests can be found in national parks along the west coast of California today. I really hope we can preserve the remaining old growth forests for future generations. There is so much environmental benefits and wonder about these trees.
Some more info here https://www.conifers.org/cu/Sequoia.php and https://www.savetheredwoods.org/redwoods/coast-redwoods/ and the wiki https://en.wikipedia.org/wiki/Sequoia_sempervirens
A big shout to the organizations who fight every day to save the trees.
STATS:
Another heavyweight set of trees. For those who are scared of heavy trees, performance on my machine is fine at around 25fps (i7 4930k, GTX980Ti, 16gb RAM) If you have a PC at very low specs, plant these in moderation.
Redwood- 3374 tris 2048×1024 textures for the fine needles to look good on this massive tree.
Redwood 2- 3188 tris 2048×1024 textures
Redwood3- 3030 tris 2048×1024 textures.
Redwood Young- 2774 tris 1024×1024 textures.
As usual, I strongly suggest Boformer's Random Tree Rotation mod updated by Judazz
http://steamcommunity.com/sharedfiles/filedetails/?id=842981708
And his LOD Toggler mod
Also BloodyPenguin's No Radioactive Mod http://steamcommunity.com/sharedfiles/filedetails/?id=666425898
And Prop and Tree Anarchy http://steamcommunity.com/sharedfiles/filedetails/?id=593588108
Sharp Textures mod really makes a difference in how the foliage looks in game http://steamcommunity.com/sharedfiles/filedetails/?id=793176674
The Tree De-Duplicator mod is good for when you get double trees. https://steamcommunity.com/sharedfiles/filedetails/?id=629171775&searchtext=tree+deduplicator
Please Rate if you like it. Thank you and Enjoy!