Cotton Large 2 [Industries]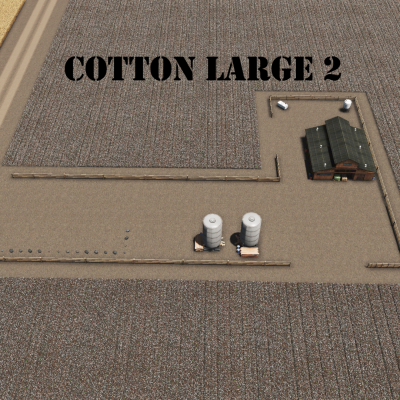 Author:
Maximilian
Last revision:
3 Nov at 06:25 2018 UTC
Description:
A large cotton field to complement my other fields. This one has some buildings in it to make it look like a storage area for your fields. Everything besides the fields are vanilla, so no need to download additional items. Decorate to suit your needs.
Includes some parking spots in front of the rocks on the bottom and has 2 areas for workers to gather – one spot in each of the fields.
Enjoy!
Update:
I have adjusted the number on all my fields. They are roughly 1/4th the stats of the vanilla small fields and I drastically reduced the number of workers (1 per 4×4 area). Why? To add realism. Vanilla fields produce a lot of crops, and therefore a lot of truck traffic which for farm areas is just not accurate. Secondly, the number of workers was high. So much so that one would need a small town just to have enough workers for a couple fields. I tested it and don't think these changes ruin the balance of the game. You just need more fields now than before if you use these, but even a small area still provides a decent number of crops for your supply chain.