Pisa Tower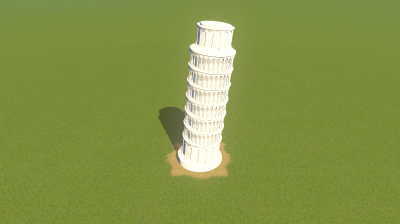 Author:
mauroturza
Last revision:
31 Oct at 00:18 2018 UTC
Description:
Español:
La torre de Pisa o torre inclinada de Pisa (en italiano: torre pendente di Pisa) es la torre campanario de la catedral de Pisa, situada en la Plaza del Duomo de Pisa, en la ciudad del mismo nombre, municipio de la región italiana de la Toscana y capital de la provincia homónima.
Altura: 55,863 metros. Ocho plantas
Diámetro externo de la base: 15,484 metros
Diámetro interno de la base: 14,736 metros.
Modelo:
Triangulos: 43.0k
Vértices: 11.3k
—————————————————————————-
English:
The tower of Pisa or leaning tower of Pisa (in Italian: tower pendente di Pisa) is the bell tower of the cathedral of Pisa, located in the Piazza del Duomo in Pisa, in the city of the same name, municipality of the Italian region of Tuscany and capital of the homonymous province.
Height: 55,863 meters. Eight plants
External diameter of the base: 15,484 meters
Internal diameter of the base: 14,736 meters.
Model:
Triangles: 43.0k
Vertices: 11.3k