Sakurajima Island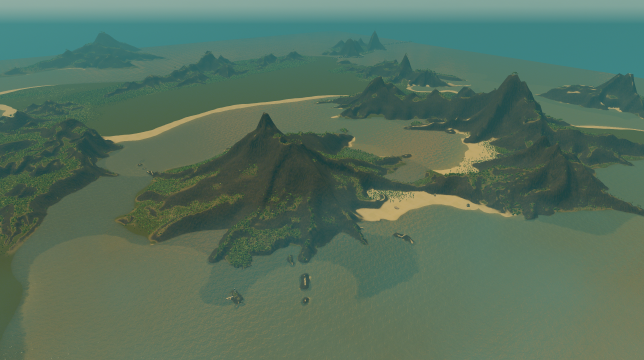 Author:
BRYONAISE
Last revision:
13 Jun at 12:04 2016 UTC
Description:
I heavily changed this map after I got it from terrain.party. It is the area of Kogashima, or Sakurajima in Japan. I made an Island out of the whole area, because i just like islands and shores give you great possibilities.
I want to give a special thanks to Fluxtrance for uploading his videos to YouTube, his (quote Flux) "awesome" brain gave me inspiration to come up with this following map. It is the 3rd one I made and I think it is the best one.
What's in the map?
+ 4 Volcanos
+ 4 ship connections
+ 4 airplane connections
+ 2 train connections
+ 2 incoming and 2 outgoing road connections
+ oil, fertile area, ore and forest included
+ lot of flat terrain to build on
If you do not know what to do with those awesome mountains you should really get inspired by fluxtrance's last city Rhinestone Island.
My other two maps are a lot older, and I had less skill, but if you want to check them out see the following two links!
Canadian West Coast
http://steamcommunity.com/sharedfiles/filedetails/?id=471866072
River Falls Plateaux
http://steamcommunity.com/sharedfiles/filedetails/?id=469150485
If you spot anything wrong or have any commentary, please let me learn and comment on the map! Thanks!
And please give thumbs up if you like the map, I will make new maps and people will be abe to find this one!
Build On!