Large "Dummy" Fields Pack [Industries]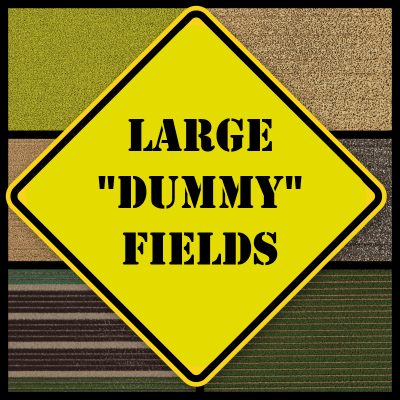 Author:
Maximilian
Last revision:
6 Nov at 12:44 2018 UTC
Description:
This pack contains six large (meaning 8×16) fields based off the others I have released: corn, cotton, vegetable (v3), rapeseed, and wheat (ripe and cut). So how are these fields different? Well let me tell you…
These fields use the new system that came with the Industries expansion – the drop-down menu. In the UI panel, you will find a new button for these dummy fields. Once you go to place it down, you'll notice something else – these fields can be placed anywhere! That's right, you don't need a road connection and you also don't have to put them inside an industrial district. Once you place it, you can select what appearance you want from the menu (wheat (ripe) being the default). Then you can use MoveIt to align it where you want it and can copy/paste it to easily make a huge farm (it seems to keep the same field so that's a plus).
So what do these fields supply or cost? Nothing and water respectively. Why does it need water? Because it is a farm and crops won't grow without it, duh! It has the same water needs as my other fields, so it isn't a lot.
Again, please leave a thumbs up on DeCzaah's asset page if you have not already. These would not be possible without his great props.
More fields still to come later. If you don't want all the ones in this pack, you can always turn them off in the content manager. Search LPI to find them easily. Also, if you use FindIt! to search for these, they will all appear separately if you would rather place them that way.