Indomaret Type A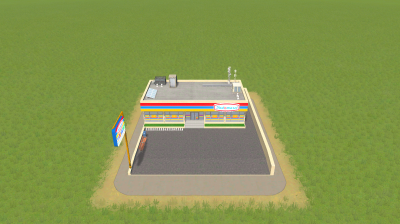 Description:
Created by Ahmad Walker
"If you like, don't forget to Rate and Comment" 🙂
= English =
PT. Indomarco Prismatama or Indomaret is a chain of retail convenience stores from Indonesia, with over 11,000 stores across Indonesia. It is the first and largest chain of this kind of store in Indonesia. Indomaret is a subsidiary of Salim Group. Its headquarter is in Jakarta.
Indomaret is a minimarket network that provides daily needs. It has a store area of about 200m2. The first official Indomaret store was opened in Ancol, North Jakarta in November 1988. By 2014, Indomaret had 10,600 outlets. 60% of the total outlets are self-owned and franchised outlets while the remaining 40% are company-owned, scattered in towns in Greater Jakarta, Sumatra, Java, Madura, Bali, Lombok, Kalimantan, and Sulawesi. In Jakarta, there are about 488 outlets.
Indomaret stores are easily found in residential areas, office buildings, and public facilities due to the placement location of outlets being based on the motto "simple and frugal" (Indonesian: mudah dan hemat). Indomaret sells more than 5,000 types of food products and non-food items.
—————————————————————————————————————————————
= Bahasa Indonesia =
Indomaret adalah jaringan ritel waralaba di Indonesia. Indomaret merupakan salah satu anak perusahaan Salim Group.
Indomaret merupakan jaringan minimarket yang menyediakan kebutuhan pokok dan kebutuhan sehari-hari dengan luas area penjualan kurang dari 200 m2. Toko pertama dibuka di Ancol, Jakarta Utara, pada tahun 1988, dikelola oleh PT. Indomarco Prismatama. Tahun 1997 perusahaan mengembangkan bisnis gerai waralaba pertama di Indonesia, setelah memiliki lebih dari 230 gerai. Jumlah gerai hingga tahun 2015 adalah 11.400 gerai dengan rincian 60% gerai adalah milik sendiri dan sisanya waralaba milik masyarakat. Sampai dengan awal tahun 2017, jumlah gerai sebanyak 13.000 toko. Mitra usaha waralaba ini meliputi: koperasi, badan usaha dan perorangan. Indomaret tersebar merata dari Sumatera, Jawa, Madura, Bali, Lombok, Kalimantan dan Sulawesi. Motto perusahaan adalah "mudah dan hemat".
Support Me:
[paypal.me]