United 2010 Ford Expedition Taxi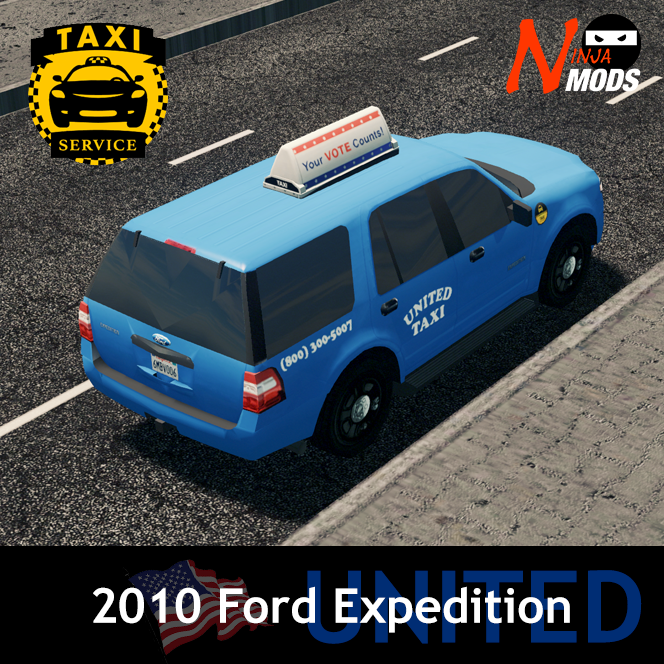 Description:
Go Vote! Also, Also, a Classic American SUV Taxi
This taxi is only uploaded because it has a VOTE ad on it. Do the American thing today and VOTE.
Find your polling place here[www.vote.org]
I don't care what your party is, but as long as you vote, you're doing yourself a favor in the future. If you don't vote, you can't complain about things not being the way you want. Plus, take a break from Skylines. It's not going to determine your taxes or your social benefits. You won't get more or less healthcare from playing Skylines.
If images aren't working, I embedded them in the description.
The blue United Taxi series derives its inspiration from a picture of an older Beverly Hills Taxi I found. This is the first color of my multicolor taxi series designed to complement CIMTaxi. As a plus, the color-variant taxis now carry a medallion, and you can treat them as companions to CIMTaxi.
Use Service Vehicle Selector 2 to set taxi vehicles types for your CIMTaxi depots or for any other depot.
Use Invisible Spawn Points to fine tune your spawning and create more realistic depots!
Other Versions
Expedition variants are still in early access. This is ONLY released to encourage people to vote.
[www.paypal.com]
Model Information
3108 Tris
Textures 1024 x 1024
Model obtained by CelsiuZ. Initial optimization by me. Further optimization by CelsiuZ. Texture by CelsiuZ with adaptation to taxi version by me.
All stats are the same as the default taxi. Use Advanced Vehicle Options Mod to change it to fit your needs.