New American Traffic Lights – Grey Style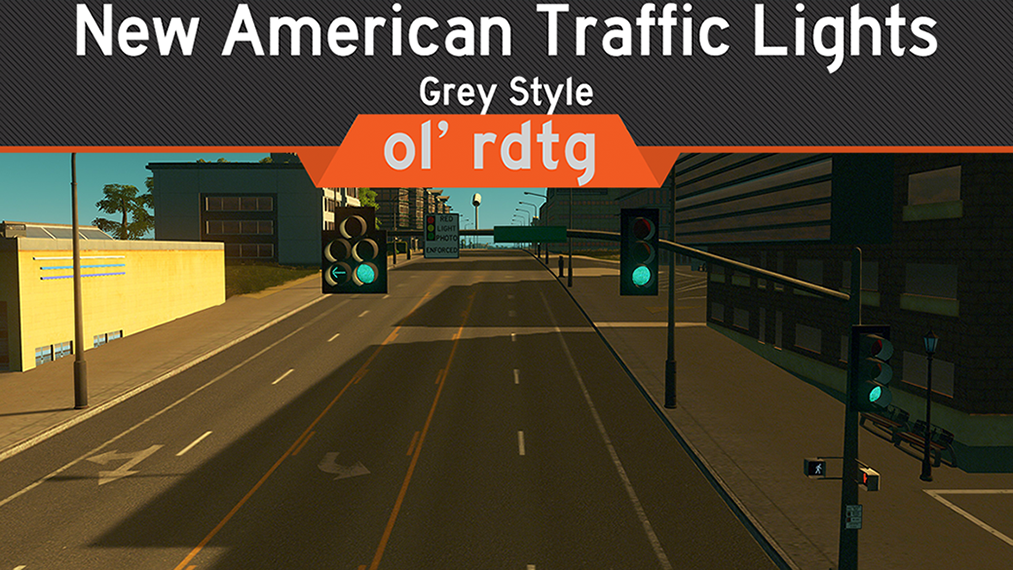 Author:
ol' rdtg
Last revision:
27 Oct at 23:36 2018 UTC
Description:
This version of the traffic lights that are grey, if you want the yellow versions, click Click here.
Notice: Starting around the 19th of November, I will probably not update any of my mods/assets for at least a month or so as I am going in to have surgery on my right shoulder, followed up by surgery on the left shoulder, followed up again with back surgery. So I will probaby be out of commision for a while.
Also — I will be updating this soon to fully support the new roads added by the Industries DLC, along with some new setups I introduced in the original 'yellow style' version of this mod.
This mod replaces the vanilla traffic lights with 26 different variations of American style traffic lights with optional working street light top props (Use Find It!). You can decide which traffic light variation you want to appear on what road types through the options menu. This allows a more realistic feel giving different size roads a different size traffic signal if the player desires.
It is fully compatible with Network Extensions.
Unlike the yellow version, medium roads now have the traffic signal on the proper side of the intersection. I will be applying this change to the yellow version soon.
I have also temporarily removed the options for medium roads. This is because the medium roads use a mirrored mesh so that I could them on the proper side. I will re-add this drop-down once I have created a few more mirrored versions of the traffic lights.
READ THIS FIRST!!!
javascript:ValidateForm()
Currently the yellow arrow signals do not operate with TMPE, but I am looking into adding this feature in the future.
NOTE: If you are having trouble figuring out which lights are which, there are two screenshots above that lay out whats what. I will make a few images later to help you figure out which traffic lights are which. It is pretty late as I am uploading this.
I made this mod as a detailed prop for a city build video I am working on so I spent a lot of time on detail and texture quality.
———————-
KNOWN BUGS:
———————-
Elevated NEXT medium road w/ turning lane and medium road w/ painted median seem to always spawn the double sided traffic lights that are used for one-way roads. I am looking in to this.
Elevated NEXT small heavy roads (road w/ turn lane, asymmetrical roads)
These seem to spawn two traffic lights, it looks like it mirrors the same prop so I might end up having to do some trickery to get this working correctly.
Highways and highway ramps have the traffic lights on the wrong side of the intersection:
I'm aware of this, it's a bit of a limitation as T-Intersections don't work………………………..yet 😉
Vanilla highways (4-lane) seem to have a few issues with placing lights as well — I recommend using the network extensions 4-lane instead to avoid this.
—————————————————————————————-
—————-
1.0:
—————-
Initial release
—————-
1.03-hf1
—————-
Hotfix – Misc bugs
—————-
1.03-hf2
—————-
Fixed a tiny bug causing prop names to mess up and the mod to throw errors.
—————————————————————————————-
The mod also includes 3 street-lamp top props to go with the traffic lights. To place them you need: Find It, Move It, Prop Anarchy and Prop Precision (to get them placed properly)
The 3 lamps come in the 3 different vanilla street lamp light colors (neutral, warm and cool)
If you would like to donate, click Here[www.paypal.com]
Big help from Vinnie P who helped me source a lot of the material I used when making the traffic lights.
You can check out his YouTube channel here.
** Special thanks to BloodyPenguin for American Traffic Lights & ako_ako for Japanese Traffic Lights (where I learned how to properly structure the menu system) and a special thanks to Badi_Dea for helping me resolve some code issues.