NTE – Helios Solar Tower – 214 MW – 6 in 1 – Updated!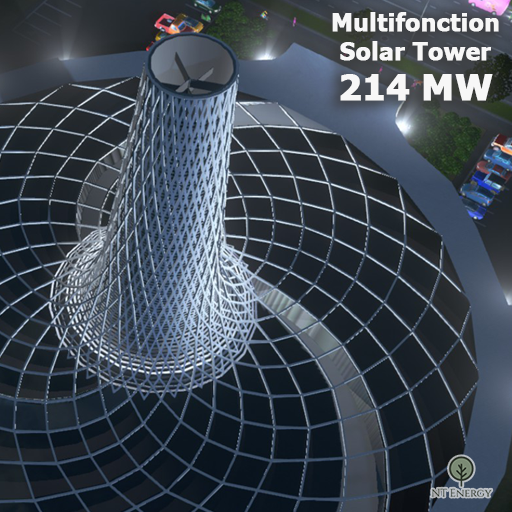 Author:
spinoza73
Last revision:
30 Nov at 22:30 2018 UTC
Description:
NTE is proud to present the Helios passive solar tower! Thanks to its coupling with a geothermal station, Helios generates 214 MW of pure power, 24h. per day without any interruptions. 6 functional buildings into 1!
***Updated – Optimized in every way: textures, file size, assembly, building entries, removed dependencies and so much more. Better than ever!***
Its spiral-shaped design allows air to be heated in the dark channels, while the three white corridors charged with colder air act on the pressure of the tower thus naturally raising the air. If the slightest pressure weakens, the geothermal station comes to the rescue, whether for a need of hot or cold air.
In addition to being a superb attraction that will beautify the neighborhood, the space available in the tower and under it has been maximized to provide luxury spaces for several businesses. On top of the solar tower & geothermal station, you will get functional:
– Fitness center on the right
– Ultra-modern cinema located to the left
– Convention center located at the base of the tower
– Shopping center housing in the tower itself
These are really six functional buildings in one. The crowd is fantastic to watch and a great way to save footprint! See for yourself…
Statistics:
– Cost of construction: 150,000
– Maintenance cost: 544/week
– 15319 triangles
– 669 triangles for the LOD
– 1492 visitor capacity
– 920 each low, medium & high wealth Tourists
– 63 uneducated workers
– 133 educated workers
– 144 well educated workers
– 65 highly educated workers
– 375 entertainment accumulation
– 300 healthcare accumulation
– Unique building
Furthermore:
– Functional and independent entry for each place
– Two functional parking
– Night lighting
– Ultra detailed model
– Semi-transparent glass covering
– Two animated propellers in the tower
** Since it's a 6 buildings into 1, it's a good thing to have the subway or public transportation nearby. Citizens really like this place!
*** See all my energy related assets: https://steamcommunity.com/profiles/76561198121031096/myworkshopfiles/?appid=255710