Centennial Milk Bar Ranfurly, New Zealand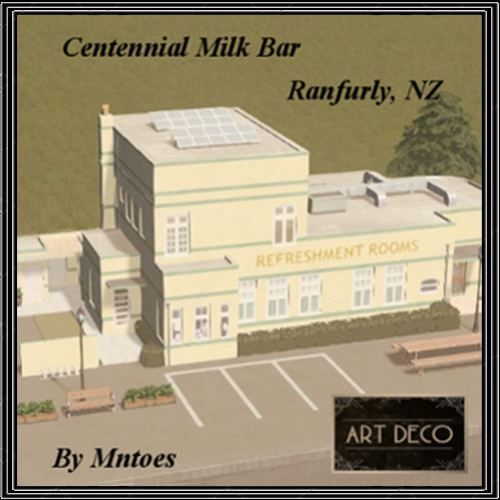 Author:
mntoes
Last revision:
3 Dec at 19:44 2018 UTC
Description:
Centennial Milk Bar, Ranfurly,New Zealand by mntoes

Ranfurly, a town on the south island of New Zealand has reinvented itself in recent years as a centre for rural Art Deco.
It's best Art Deco building is the former Centennial Milk Bar and Refreshment Rooms which now houses a collection of Art Deco objects.
The Centennial Milk Bar is located beside the I-Site (once the Railway Station) in the main street. In its heyday it was a bustling place serving hungry passengers from the trains and afternoon teas and icecreams to the locals. However, by the mid 1970's the trains stopped running, the already small population of the town dwindled and the milk bar took on defeated look.
The only party interested in the prominent but abandoned art deco milk bar on the main street was the local fire brigade who were eyeing it up as something to burn down for a practise exercise.
The resilient and forward-thinking people of the Maniototo, however, were not to be beaten and a group got together with the idea of reviving the forty-odd art deco buildings located throughout the town to create an 'Art Deco' theme for Ranfurly.
In 2000 the Central Otago District Council purchased the Centennial Milk Bar and leased it to the group who set up what is now an absolutely delightful Art Deco Gallery. Local families have lent or donated their treasures and the displays, set up as rooms; bring to life the glamour and glitz of the era.
Fur coats, Bakelite ash trays, amber glass and images of classy dames in tightly-fitted drop-waisted dresses and the like, adorn every space in the light-filled rooms. Visitors are astounded at what they find in the gallery and many delight in the memories that are rekindled by the displays.
In 2010 highly respected UK Art Deco author Colin Hines, visited the gallery and said it was the best '1930's museum' he had seen in his extensive travels. He felt the 'comprehensive' collection of 1930's clothing, bedroom, kitchen and household items took him by surprise and he commented 'you've got to stop for this gem'.
Model 2379 tris maps d,n,s,i 1024×1024
Lod 206 tris maps d,i 256,256
Location:- Unique building, Landmarks

If you wish to show your appreciation then a small donation can be sent. (no obligation) 🙂
Paypal me [PayPal.me]
Please rate me-up