River 12 (Growable)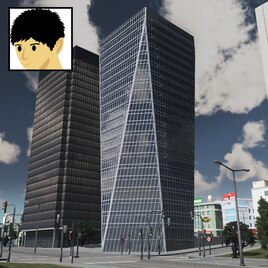 Author:
Othercakes
Last revision:
18 Dec at 05:10 2018 UTC
Description:
– – – – – – – Special thanks to my patrons: Joliicent, Sam Ward and Joshua Lan for the support! <3 – – – – – – –
If you like my assets, thumbs up and subscribe for more! 🙂
Please consider a small donation if you like my work or want some custom request, this helps a lot! And keeps me motivated to keep throwing something new in the workshop. 😀
[www.paypal.me]
Or join my patreon! For only $1 a month you could get early access to my assets, vote on the assets polls and more!
[www.patreon.com]
Follow me on Twitter and Youtube for news and upcoming assets!

A new office building. It is said that the architect who designed this building is renowned. Hm.
–MODEL STATS–
– Model with 1900 tris and 1024×1024 maps.
– Custom LOD with 44 tris and 256×256 maps.
–GAME STATS–
– Growable 4×4 Office
– 70 meters high (229 ft)
– Level 3
– Without props on the ground level