NTE – Falcon Blimp/Metro/Bus HUB – Energetically Autonomous + 10 MW production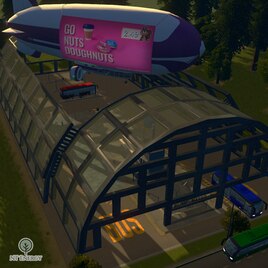 Author:
spinoza73
Last revision:
24 Dec at 10:42 2018 UTC
Description:
Pimp your blimp station with the NTE Falcon Blimp/Metro-Subway/Bus HUB energetically autonomous! Produces 10 MW of alternative energy electricity thanks to its thermal base and a small geothermal station for heating and air conditioning. Can meet the electrical demand of a few buildings, but is not designed to power an entire city.
Cost 25% more than regular blimp station but comes with great synergy bonus! Finally a transit between blimp-metro-bus!
– 1 Blimp Station
– 4 Bus Stops
– 2 Metro/Subway Platforms (cross shape), respectively at 12 and 24 meters depth. No needs for multi-tracks mod to use both platforms
– Fully compatible with Transport Lines Manager
– 15808 tris – Highly detailed
– 386 tris for the lod – High performance
– 6X12 square
– Transparent & reflective glass
Workers:
– 15 uneducated workers
– 30 educated workers
– 30 well educated workers
– 15 highly educated workers
Coming soon: Falcon HUB (sneak peak: https://steamcommunity.com/sharedfiles/filedetails/?id=1603763183
Falcon Bus Station and 2 Metro/Subway version already available. See all my energy & transport related assets and don't miss a release of my creation by subscribing: https://steamcommunity.com/profiles/76561198121031096/myworkshopfiles/?appid=255710
* Interested in supporting my creations? A little something always cheers up 🙂
Donate with Paypal[www.paypal.com]