Local station#6 50m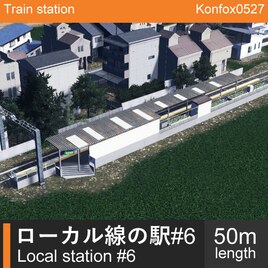 Author:
konfox0527
Last revision:
25 Dec at 10:41 2018 UTC
Description:
ローカル線の駅
Local station #6
Overview
電化されたローカル私鉄の駅をモチーフにした単線の小さな駅です。
プラットホーム長は50mです。(江ノ電の2編成連結車がぎりぎりはいります。)
設置方法がタイルに依存しないフリーポジションタイプになっています。入口の階段を道路にあわせてください。
This station motif Electric local private railway's smpll station.
Platform length is 50m small.
This station is "freeposition type build". It do not need road in build station and tiles. Please build road
in front of the entrance.
Attention 注意
新幹線、欧州/米/豪二階建て車輌等の大型車両は確実に車体を擦ります。
Not support the huge size train car throuh the station not body hit. Shinkansen, EU/US/AU double stack car and other.
texture: 1024x 2048
lod texture: 128x 128
tris: 1829
lod tris: 78