NTE – Falcon Bus/Metro Station – Energetically Autonomous + 10 MW production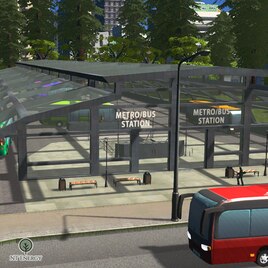 Author:
spinoza73
Last revision:
28 Dec at 20:31 2018 UTC
Description:
A bus station more design with 9 lines available making the station more useful because it is directly connected to two metro platforms. This station/HUB have been made with the security of your citizens in mind. They will never have to cross the bus route thanks to an underpass that leads directly to each of the loading docks using one of the individual stairs. Because … uh … you do not want to throw your citizens under the bus, do you? Also for their safety, the opening in the roof ensures a movement of air avoiding carbon monoxide poisoning.
It's also an energetically autonomous one! Perfect for a new development! Produces 10 MW of alternative energy electricity thanks to its thermal base and a small geothermal station for its own heating and air conditioning. Can meet the electrical demand of a few buildings, but is not designed to power an entire city.
– 9 Bus Stops
– 2 Metro/Subway Platforms (L shape), respectively at 12 and 24 meters depth. No needs for multi-tracks mod to use both platforms
– 10224 tris – Highly detailed
– 295 tris for the lod – High performance
– 5X12 square
– Transparent & reflective glass
– No needs for After Dark
– 33% less noise accumulation
– 25% smaller noise radius
– Compatible with Transport Lines Manager
Workers:
– 18 uneducated workers
– 40 educated workers
– 40 well educated workers
– 12 highly educated workers
Tips number 1: Avoid putting a road directly behind, otherwise the most reckless drivers will use the lanes reserved for buses to cut through and save time. 2 or 3 tiles of distance calm their ardor 😉
Tips number 2: Leave the first bus stop, the one close to the main big staircase, free of bus line. Your citizens will then be able to freely use it as a landing stage.
Stay Tuned! Coming soon: A full integration in a modular way of the Falcon Bus Station, Blimp/bus Station & Metro Train HUB!!
See all my energy & transport related assets and don't miss a release of my creation by subscribing: https://steamcommunity.com/profiles/76561198121031096/myworkshopfiles/?appid=255710
* Interested in supporting my creations? A little something always cheers up 🙂
Donate with Paypal[www.paypal.com]