Prince George with streets and public transport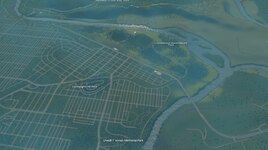 Description:
Prince George, British Columbia, Canada
Prince George, with a population of 74,003 (census agglomeration of 86,622), is the largest city in northern British Columbia, Canada, and is the "Northern Capital" of BC. Situated at the confluence of the Fraser and Nechako Rivers, and the crossroads of Highway 16 and Highway 97. Wikipedia [de.wikipedia.org]
Without these mods it wouldn´t have been manageable:
Cimtographer – rebuild by DevilMayCry31a42
Move It! , Fine Road Anarchy and Fine Road Tool by SamsamTS
Clouds & Fog Toggler by BloodyPenguin
THANK YOU!
Unlock all and Unlimited money recommended
Prince George with streets and public transport *V2*